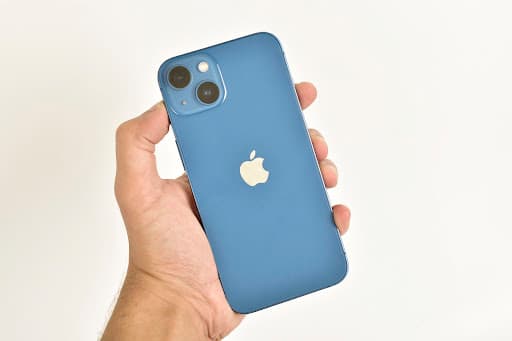 10 Best iPhone 13 and 13 Pro Apps
Looking for the best iPhone 13 apps for organization? Trying to find the best camera apps for iPhone 13 Pro? Read this article.
---
If you're new to the iPhone, scouring the App store for worthwhile apps to download can be daunting. Nowadays, there's an app designed to help with nearly any problem you face, from personal development to photo editing.
In particular, the iPhone 13 and 13 Pro are known for being highly ergonomic and versatile in their many features, which means you'll want to take advantage of them by downloading the best apps possible. Although downloading apps onto your smartphone may not be a new experience, knowing how to choose the right app for your needs can be a bit of a headache.
Whether you are looking for the best iPhone games or want to find a way to help you read more books, apps can help improve your overall lifestyle. In this article, you can learn which apps will enable you to get the most out of your iPhone 13 and even help improve your mental and physical health.
Key points:
iPhone users can access various apps designed to help make life easier and more efficient. For instance, you can use a photo-editing app to help you enhance photos and videos or edit them into masterful art pieces.

Finding the perfect app for your specific needs can be difficult. To make your search easier, some of the best iPhone 13 and 13 Pro apps include Headway, BookBub, and Fantastical.

With busy schedules and long to-do lists, many people don't have time to tend to their mental growth. The Headway app can help maintain productivity and learning while on the go. This app lets you read or listen to detailed 15-minute summaries of top self-development books.
Best reading apps for iPhone 13 Pro
1. Headway
The Headway app may seem like a typical book summary application, but there's far more to it than meets the eye. With effective goal-setting tools and reminders to keep you accountable, this app helps increase your productivity using bite-sized versions of popular non-fiction books. The best part? You can read or listen to Headway summaries anywhere, anytime.
Headway is a spectacular learning app with text and audio summaries from the world's best books on self-development, business, and philosophy. With this app, you can learn from influential authors in any field by investing in tidbits of their most renowned teachings. If you feel unmotivated, this app keeps you accountable with fun features that tell you how many books and how much time you have spent reading.
Whether you are looking to boost your career with wisdom from ancient philosophers, learn more about your inner self, or build a new skill, Headway has a book summary to help with whatever you need. 
We offer a free seven-day trial so that you can explore all the Headway premium membership has to offer. If you subscribe, prices start from an affordable $14.99 monthly to $69.99 annually. Alternatively, the free version allows you to indulge in one of Headway's daily reads, especially chosen by our professional team. Download the Headway app from the Apple Store today!

2. Apple Books

If you own an iPhone, you've likely seen Apple Books somewhere on your phone. So, if you haven't decided whether to give this app the attention it deserves, now is your chance. Apple Books is an award-winning app that houses hundreds of popular ebooks and audiobooks, including classics, bestsellers, and works by emerging authors.
Besides its extensive selection of books, this app allows you to customize your reading experience with various fonts, page colors, and dark or light themes. If you have trouble reading on a smartphone because of the screen light, you can easily adjust brightness levels to suit your preference. Apple Books also allows you to organize your library and create wish lists of books you want to read in the future. Lastly, there is no subscription available for Apple Books, meaning you can enjoy browsing books without hidden fees.
3. Amazon Kindle

Many people mistakenly think the Kindle app is only available to those with an Amazon eReader device. However, the Amazon Kindle app allows access to all the same books you can find on a Kindle device from your iPhone. This app lets users find top bestselling books in various genres and other content types like audiobooks and podcasts.
Users can benefit from the Kindle Unlimited program, which offers exclusive access to over a million titles, audiobooks, and a subscription to three magazines, with a monthly membership fee of $9.99. Otherwise, Prime members can also read books for free with a broad selection of over 1,000 titles. Whenever you need to access your library on the go or explore the pages of a book, you can rest assured that the Kindle app has saved your place right where you left off. 
4. BookBub
BookBub is free and the perfect place for frugal book lovers to purchase their favorite bestselling books at discounted prices. If you're in the market for unbeatable deals,  you might enjoy receiving handpicked recommendations from the app's expert editorial team to help you find books in your preferred genres. However, note that BookBub doesn't sell you books from the app itself — it only helps pair you with the best discounts and deals across various platforms.
On BookBub, users can browse a unique catalog of bestselling books, which range from completely free to only a few bucks or less. These books can be purchased directly from Apple Books and downloaded onto your iPhone or eReading device. You might also enjoy BookBub's vast category selection, ranging from mysteries and thrillers to romance and historical fiction.
Best organization apps for iPhone 13 Pro
5. Fantastical Calendar

If you're the forgetful type or need a place to store all your important upcoming dates and appointments, the Fantastical Calendar app may offer the perfect solution for you. However, the Fantastical app boasts itself as more than just a calendar — it's also a convenient way to manage all your schedules, tasks, and lists. So, you can keep your reminders and meetings organized and create a useful to-do list to help keep track of your daily chores or errands.
Fantastical allows you to add new upcoming events to your schedule and use various widgets to make your planning process easier. This includes checking weather forecasts so you can plan. Additionally, Fantastical offers a premium app version for $4.99 a month that lets you access even more unique features like custom event colors and home screen icons.
6. Structured
Structured is an innovative app designed for people who need more structure. This app acknowledges that creating tasks and daily to-do lists might be a good organizational strategy, but it doesn't work for everyone long-term. In this case, Structured provides a more efficient method of organization for visual people who need everything laid out before them.
Many people require a clear outline of their daily or weekly tasks to remember everything and complete things before deadlines. Thus, users can benefit from placing all their recurring tasks and notes into one convenient location with the Structured app. Structured is free to download but has an optional premium subscription for $9.99 to purchase to access additional features. This includes receiving notifications or importing tasks on iPhone or iPad.
7. Notion
Notion exists to help you manage various aspects of your personal life, such as organization, fitness, and work life, by creating detailed plans in notes, docs, and tasks. These pages can be shared with anyone to collaborate on docs with images and various other types of content. An interesting and innovative feature of the Notion app is its ability to turn any page you create into a full-blown website. Users can access various website-building tools to help them showcase their skills and notes to potential employers.
The Notion app is also a great tool for company workspaces to help team members keep track of their completed work. Each employee has access to a shared space containing all the necessary information for upcoming events and reminders. Notion helps motivate employees as they manage deadlines and responsibilities throughout the workweek.
Best photo apps for iPhone 13 Pro
8. ProCamera+
Sometimes, the iPhone camera alone isn't enough to fulfill all your photography needs. ProCamera+ is the leading photo and video camera app on iOS, sporting pro-level camera features and in-depth editing tools. This all-in-one camera app offers several tools for multiple uses, like capturing, recording, and editing. ProCamera+ gives you maximum control over your iPhone 13 or 13 Pro camera with dual and triple-lens support, digital zoom, and HD and UHD 4K video.
National Geographic has claimed ProCamera+ as a must-have travel app for people who want to capture their most glorious moments in high-resolution quality. With this app, you can browse through 80 filters and enhance your photos and videos using manual controls and cinematic video stabilization. ProCamera+ also offers users the option to upgrade their experience with ProCamera Up for $6.99, which gives you even more tools, such as automatic perspective distortion correction.
9. VSCO

VSCO is not just any ordinary photo editing app. This app focuses on helping users express themselves through the creativity of photography and video editing. With the VSCO photo editing suite, you can easily trim, crop, and reverse videos just as a professional would. Moreover, you might create aesthetically-pleasing collages or enhance your pictures with highlights, shadows, and contrast adjustments.
With no membership required, VSCO is an entirely free photo editing app that offers much value in social, creative, and skill-building aspects. Besides its high-quality filters and photo editing tools, VSCO offers users access to a broad community of fellow photography lovers. You can get inspiration from other users' photos and videos in community hubs called VSCO Spaces. Perhaps you might meet a like-minded friend or two!
10. Darkroom

When you can't get the lighting right in your photo session, Darkroom can help you color-correct and bring the right amount of light back into your photo. You can also access features that adjust background blur and brightness. Once you are done editing your photos, you can share them with the growing Darkroom community on social media using a special hashtag.
This app provides all the editing tools you need to achieve high-quality digital imagery. The Darkroom photo editor is simple enough for even the beginner photographer to navigate while offering complex options for advanced users. This includes the recently-launched highlight and shadow tools, which allow you to tweak your photo's dark and light parts to obtain balanced or enhanced contrast.
Get the best iPhone 13 app with Headway
The iPhone 13 may give you access to all the amazing and innovative apps in the App store, but knowing which ones will benefit your health is important. You can boost creativity and learn key strategies for managing a clean, healthy lifestyle by downloading the best iPhone apps for reading, organization, and photo editing.
Headway allows users to read or listen to thousands of book summaries on psychology, spirituality, and self-development. With this app, there are an infinite number of ways you can improve yourself, including specialized growth plans and embarking on one of Headway's 28-day challenges. Begin your journey today by starting a free seven-day trial with Headway!
Download the Headway app to gain exclusive access to a library collection of over 1500+ book summaries by your favorite self-development authors.
FAQs
What are the best apps for iPhone 13 and 13 Pro?
While it's impossible to claim an app as the best of all other apps, there can be a few leading apps in each category. For instance, some of the most noteworthy iPhone 13 apps to help you read more books include Headway and Amazon Kindle. To improve organization and task management, some great apps to download would be the Fantastical Calendar and Structured.
How can iPhone 13 apps benefit me?
No matter the brand or age of your smartphone, apps can benefit your mental and physical health in several ways. For example, Headway is a book summary app that pairs you with top bestselling books for personal development. Using an app in this manner can help accelerate your self-growth and teach you valuable skills.
Why should I download Headway for iPhone 13?
From desktop to iPad, Headway is useful on any platform. However, downloading it onto your iPhone means you can take it anywhere. You can conveniently access your library of self-growth and development books at any time or place, and you can increase your productivity to new lengths.