30 books you should read before 30
The greatest collection of nonfiction bestsellers to keep you uplifted in the adulthood
Headway Team
20 min
---
Many people, as they get closer to the age of 30, start feeling anxious. The pressure becomes higher from social media, family, people who surround you. What have you achieved? When are you going to start a family? Have you already bought a house?
Calm down, breathe deeply. All this means nothing. What's actually essential when you quit the 20-something-phase is how you feel and how satisfied you are with your life. It is not measured by fulfilling others' expectations of you. It is measured by meeting your own expectations.
The Headway Media prepared a list of 30 books to read before 30. It is a no-nonsense collection of titles that will help you achieve your goals and what matters in life the most.
1. Nonviolent Communication: A Language of Life. Create Your Life, Your Relationships, and Your World in Harmony with Your Values by Marshall B. Rosenberg, Ph.D.
The older we get, the more we understand and think about the power of good communications. When we are not kids anymore, it is more challenging to make a proper acquaintance because everyone now has experience and opinions behind their backs.
Nonviolent Communication by Marshall B. Rosenberg, Ph.D., will teach you how to make respectful and healthy dialogue, use the right vocabulary, and understand your companion better. After all, in adult life, we are constantly surrounded by people wherever we are. At work, home, gym, and other areas of life where we have interactions, it is crucial to value your feelings and those around you. Seems like this title is perfect to open our list of 30 books everyone must read before 30!
2. The Art of Saying NO: How to Stand Your Ground, Reclaim Your Time and Energy, and Refuse to be Taken for Granted (Without Feeling Guilty!) by Damon Zahariades
30 is precisely the age when it's time to stop being a people-pleaser. Are you tired of everyone taking advantage of you? Then The Art of Saying NO will definitely become your handbook from the list of books you should read before 30!
Assertiveness is the skill anyone will find essential to master as they grow up. Standing up for yourself in a friendly and confident manner can come in handy in multiple situations in life. Not only will you set the boundaries, after reading Damon Zahariades's writing, no. You will also find out how to get your friends, family members, bosses, coworkers, and neighbors to respect the lines no one should cross and recognize your authority.
3. Crucial Conversations: Tools for Talking When Stakes Are High by Kerry Patterson, Joseph Grenny, Ron McMillan, Al Switzer
Whether we like it or not, but adult life includes plenty of unpleasant communication. Most of it happens when something important is going on. And while most of us are pros at having a small talk over a cup of coffee, it turns the opposite when it comes to discussing something difficult. In Crucial Conversations, from our list of 30 books to read before 30_,_ you will find the best tips on how to master those hard talkings and win in every one of them.
4. The 4-Hour Body: An Uncommon Guide to Rapid Fat-Loss, Incredible Sex, and Becoming Superhuman by Timothy Ferriss
Youth can forgive everything — parties with lots of alcohol, junk food diet, lack of exercise. However, it is always a good idea to start thinking about your health and treat your body as a temple as soon as possible. The 4-Hour Body is a step-by-step guidebook that will reveal the secrets of fat loss and fitness, effective dieting, and quality sex. It is a real savior for everyone ready to walk the path of physical self-care.
5. Love Yourself Like Your Life Depends on It by Kamal Ravikant
Oh, self-love. We hear this word all the time, but it is a commendable move to accept ourselves just the way we are for most of us. Yet every year of our lives only proves that if you don't love yourself, nobody else will. You are your person in the first place. Of course, it takes courage and strength to face your fears and expectations that didn't come true. But…Who cares, right? Love Yourself Like Your Life Depends on It will be just another proof of why it is so important to show yourself a little bit of self-love and how actually to start doing that. Sounds like enough arguments to add this title to your 30 books to read before 30 list!
6. How to Stop Worrying And Start Living by Dale Carnegie
Mental health is just as important as physical one. Yet, there is one upsetting fact. Since childhood, we always hear how important it is to watch what you eat, be active, and get enough sleep. All of it, of course, is crucial for a healthy body. However, it disregards taking care of what is going on with your mind.
The good thing is that everything changes when you become an adult. You start paying more attention to your mental health as it significantly affects your performance at work and personal life. This classic book by no one but a legendary Dale Carnegie will help you calm the demons in your head to start living to the fullest. Still in doubt if this book is one of the 'must read before 30?' Better start reading and see for yourself!
7. Rich Dad Poor Dad: What The Rich Teach Their Kids About Money — That the Poor and Middle Class Do Not! by Robert Kiyosaki
Did you know that your mindset is what defines if you are going to be rich or not? Didn't? Well, in this case, you definitely need to read Robert Kiyosaki's bestseller Rich Dad Poor Dad. This book became a huge success, and it's not surprising. It reveals a straightforward truth that everyone always ignores — the millionaires are not born. They are raised. Whether you already have kids and want them to run this world, or you want a 180-degree change in your life, this book will come in handy for sure.
8. 15 Secrets Successful People Know About Time Management: The Productivity Habits of 7 Billionaires, 13 Olympic Athletes, 29 Straight-A Students, and 239 Entrepreneurs by Kevin Kruse
If you ever wondered how someone became so productive, successful, and wealthy, the answer lies in two words: time management. Yes, so simple, yet still so hard to accomplish. Likely, people who many of us admire share their untold truths in a more than a useful book, 15 Secrets Successful People Know About Time Management.
By understanding how to utilize the time you have and how to adopt the right mindset, you will be able to achieve far more in the hours you have and still have time for yourself and the things you want to do in your personal life. Don't lose a second and add this title to the library of books you must read before 30 ASAP!
9. Getting Things Done: The Art of Stress-Free Productivity by David Allen
Career, family, friends, self-development — the list of what any adult wants to accomplish and do on time can go on forever. It can be pretty stressful to keep in mind all your tasks without feeling that you are not productive enough. Getting Things Done will help you to organize your workflow in the most efficient way possible. Not only will it result in more hours of sleep, but it will also impact your mental health, performance at work, and mood. After all, life is too short to be non-stop stressed about your to-do​ list.
10. A Guide to the Good Life: The Ancient Art of Stoic Joy by William B. Irvine
It is natural for people to start thinking about how they live their lives and whether they will regret it when the end will be near. To not worry about it and live a happy and fulfilled life, you'd better dive into the ancient Rome wisdom — Stoic philosophy. This monumental teaching cannot be easy to master, but it can turn into a game-changing experience.
A Guide to the Good Life is literally the collection of the best tips on how to practice Stoicism to get rid of dissatisfaction and disappointment in your life. For sure, stoic wisdom and insights are worthy of being the philosophy people must read before 30.
11. Wherever You Go, There You Are: Mindfulness Meditation in Everyday Life by Jon Kabat-Zinn
For many people, meditation is wasting time. However, this opinion comes only from those who haven't found out how to master this art properly. Yet those who could now prove that mindfulness meditation is a life-changing practice. Wherever You Go, There You Are is the ideal book for anyone who has tried meditation in the past or expressed an interest in doing so but has found it difficult. This activity requires concentration and practice, and the noise of today's world can often get in the way. The ability to focus your mind on the here and now and not allow your thoughts to wander backward or forward is a skill that takes time and effort to master. Over time, you will notice that small steps lead to huge gains.
12. The Happiness Project, Tenth Anniversary Edition: Or, Why I Spent a Year Trying to Sing in the Morning, Clean My Closets, Fight Right, Read Aristotle, and Generally Have More Fun by Gretchen Rubin
When was the last time you've done something that made you feel genuinely happy? Not what should, but what actually does. Are you even aware of what can bring you happiness? It's easy to spend your life chasing some perfect illusion while ignoring the simple truths that would turn your reality into a fairytale. The author of The Happiness Project spent the year trying the best techniques that claim to bring you joy. Each month was dedicated to one specific important field of Gretchen Rubin's life. The results of this groundbreaking experiment and the best tips on finding the happiness you will find in this impressive title.
13. Meditations by Marcus Aurelius
If you wonder how to find a way to a meaningful life, then this classic should definitely be in your library of books to read before 30. The renovative translation of acknowledged Meditations by a Roman emperor and philosopher Marcus Aurelius has all the chances of becoming your table book. It will tell everything about implementing stoic philosophy into your life and share priceless insights and advice that will help you to be fulfilled, productive, and balanced. Undoubtedly, Marcus Aurelius's thoughts can stand the test of time.
14. Becoming by Michelle Obama
During her two terms as the First Lady of the United States, Michelle Obama won the hearts and love of Americans. Yet, she was far from being just a gorgeous woman next to her President husband. Her life is the story of self-growth, success, family happiness, and constant work to make the world a better place. Her memoir Becoming turned out to be a highly inspirational book that can influence both women and men.
15. All About Love: New Visions by Bell Hooks
It isn't easy to imagine human life without love. No matter what type of it is present in our hearts, the lack of this feeling results in inner emptiness. That's why All About Love by Bell Hooks is on our list of books to read before 30. Learning everything about affection and intimacy in modern society is crucial for anyone. This title highlights how love has changed since the 60s and what it looks like in our hectic 21st century. With this book, you will explore your view of this all-powerful force and learn how to attract it into your life.
16. Blink: The Power of Thinking Without Thinking by Malcolm Gladwell
There is no chance that the collection of books you should read before 30 wouldn't include Malcolm Gladwell's work. After all, he is an outstanding journalist and one of the most successful non-fiction authors of the new millennium. Here we've chosen one of his five The New York Times bestsellers, Blink. If you've ever been intrigued by how our thinking and unconscious mind work, then this title is a must-read for you! In it, you will find the answers to your questions about how stereotypes and biases affect us, how our decision-making process works, and what thinking without thinking is all about.
17. Born a Crime: Stories from a South African Childhood by Trevor Noah
You know him as a famous comedian and television host, but there is a challenging and demanding life path behind the smiles. The time in South Africa when Trevor Noah was born belonged to the period of apartheid. Thus, having parents of different races made the birth of this celebrity an actual crime. Other than that, living in South Africa was filled with shocking and dangerous events, which Trevor Noah brilliantly describes in Born a Crime. The book was praised by multiple critics and was named one of the best memoirs of the decade. Undoubtedly, this title can hardly leave anyone indifferent.
18. Grit: The Power of Passion and Perseverance by Angela Duckworth
The mystery of success is now solved! In Angela Duckworth's bestseller Grit, you will find out all secrets about high achievements and triumph. The author of this book is an associate professor of psychology at the University of Pennsylvania who claims that talent has nothing to do with being successful, but grit definitely does. If you ever feel like you fail more than others and generally have a lack of luck, then Grit must be on your to-read list for sure.
19. Start With Why: How Great Leaders Inspire Everyone to Take Action by Simon Sinek
Some companies reach their business goals, while others fall far behind them. Why does it happen? Start With Why by a bestselling author and inspirational speaker Simon Sinek contains all answers to this puzzling issue. An organization or a movement will succeed only to the extent to which its founder's WHYs remain clear. Your 20s are the best age to learn everything about purposeful leadership, so Start With Why is the perfect fit for the list of books to read before 30!
20. Educated: A Memoir by Tara Westover
This book became a real sensation when it was published in 2018. Tara Westover shared her true, shocking story that turned into Goodreads Choice 2018 winner, one of the best ten books of the year according to The New York Times book review, and Barack Obama's favorite read of 2018. Impressive, isn't it? Educated will tell you about its author's path from living in the survivalist family to a self-education journey and getting degrees from some of the world's best universities. Sincere, inspirational, and impressive, this title will influence your view of life guaranteed.
21. Waking Up: A Guide to Spirituality Without Religion by Sam Harris
At some point in life, everybody realizes the importance of spirituality. Yet many people don't want to look for it with the help of religion. The good news is that theology isn't the only source of experiencing blessings in life. If it sounds like your case, then it's a good idea to add Waking Up to your list of books to read before 30. Sam Harris is an American neuroscientist, religious critic, and "Waking Up to Making Sense" podcast host. In this book, he discusses achieving spirituality through some other means than different types of religious beliefs.
22. The Art of War by Sun Tzu
This Chinese wisdom by Sun Tzu has lasted for almost three thousand years and still remains valuable and applicable to modern times. Of course, the context of war has changed, and in our everyday lives, it refers more to strategies that we can apply to career, negotiations, and communication. We all need an action plan in every case that we stumble with, and this immortal classic by an acknowledged philosopher is one for sure.
23. Range: Why Generalists Triumph in a Specialized World by David Epstein
If you ever feel like you are doing not enough, then there is no need to worry. At some moment in life, everybody faced a similar state. The point is, in many cases, it's not true. But it's still a good idea to find out what you can do to reduce this anxiety and learn how to achieve the triumph level of successful people you look up to. Range by David Epstein will help you with this issue and many more. From this book, you will learn how to build a leader's mindset, focus on mastering essential skills, and get the life you've always dreamt of!
24. Big Magic: Creative Living Beyond Fear by Elizabeth Gilbert
You've probably heard of the movie Eat, Pray, Love, or maybe you've even seen it. It is based on a memoir of the same name written by Elizabeth Gilbert. To our list of 30 books you should read before 30, we've added another work of hers, Big Magic. This title is dedicated to finding creativity in every day and filling your life with it. Even if your occupation doesn't belong to an artistic field, the 'visionary nerve' may come in handy in everything you do. And of course, there is nobody better to take advice on this issue from than the author, whose book remained in the New York Times Best Seller list for 187 weeks straight!
25. Quiet: The Power of Introverts in a World that Can't Stop Talking by Susan Cain
Did you know that there are roughly 1/3 of introverts in the world? If you consider being one of them, then this book is the perfect read for you! Another Goodreads Choice winner, this time of 2012, is praised by thousands of readers worldwide. We are talking about Quiet by Susan Cain. Many people underestimate the skills and benefits of introverts, and it's an actual loss! Susan Cain tried to change the narrative and succeeded, as now the Quiet Movement and philosophy exist. So don't be shy, fellow introvert. Better read this bestseller and celebrate your unique personality!
26. Deep Work: Rules for Focused Success in a Distracted World by Cal Newport
There is one valuable skill that will change the game for you once and for all. It's called deep work. If you haven't heard of it or have but are wondering how to master it, Deep Work by professor Cal Newport will help find solutions. This book explains the benefits of deep work, such as processing puzzling information fastest and performing demanding tasks effortlessly and efficiently. Sounds like something that makes life much easier, right? That's why there is no doubt that this title must be in the collection of 30 books to read before 30!
27. Feeling Good: The New Mood Therapy by David Burns
Life is full of surprises, and not all of them are pleasant. Combine it with stress at work, troubles in relationships, and everything going on in the world, and voilà — mental issues won't wait to come. From anxiety to depression, it has become the biggest problem of modern society. Get ready, as this book is a real self-help treasure! Written by one of the top prime developers of Cognitive Therapy at the University of Pennsylvania, Feeling Good is the title every person should read. David D. Burns, M.D. presents innovative and effective methods for controlling your mood and preventing the development of the mental disorder with neat and straightforward words.
28. Flow: The Psychology of Optimal Experience by Mihaly Csikszentmihalyi
We all know the phrase 'go with the flow.' And while often it is considered to be a bad strategy, it's the opposite when talking about the flow as the state of consciousness. Why? First and most important of all is that this whole process is proven to bring creativity, happiness, and fulfillment. Psychologist Mihaly Csikszentmihalyi described all of it in his book Flow (ironic, isn't it?) He explains that people who learn to control inner experience can determine the quality of their lives, which is as close as any of us can come to being happy. So if you want to enter your 30s most joyously, then reading this book is a great idea!
29. Permanent Record by Edward Snowden
In 2013, his story shook the global community. Edward Snowden, the founder of WikiLeaks, came under the spotlight for his role in leaking vital state secrets. The case had dozens of shady and tricky details that now are explained, thanks to Snowden's memoir Permanent Record. He wrote everything about his life, including the scandal, with shocking and provocative facts that will make any reader stay up late at night reading this book. For everybody intrigued by this modern tale that looks like something from the big screen, we've added Permanent Record to our ultimate 30s list.
30. Think and Grow Rich! by Napoleon Hill and Ross Cornwell
Hard work is essential for becoming rich, yet one of the most important first steps is your mindset. That's what Day 1 of this challenge is dedicated to. From Think and Grow Rich! by Napoleon Hill and Ross Cornwell, you will find lots of actionable advice on changing your mentality and making it beneficial for your success.
Of course, the grown-up life is not all fun and games, but it is in your power to make it feel like this. Win this world just like you want it without considering other people's opinions and societal expectations. This collection of 30 books you should read before 30 will become your great helper to enter the next decade with your new victorious attitude!
What if you could finish any book in just 15 minutes?
It's now possible with Headway!
On the Headway app, you will find 15-minute bite-sized summaries from the world's best nonfiction books. Yes, that's correct! All titles have been remastered into short reads with key insights and tips. It will help you read more, learn something new every day, and decide what books you are most interested in reading from the very first pages till the last ones.
More than 7 million readers have already picked Headway as their never-ending source of wisdom and self-growth. Want to know more? Let's go!
What is a summary anyways?
Have you ever wished that you could read an entire book in 15 minutes or less without missing all the crucial information? After all, there are dozens of worthy titles in the world. However, even if you dedicated every single minute of your life to reading, that wouldn't be enough to dig into all the books. That's when summaries come to help.
A summary is a unique piece of content written based on a book. The goal is to filter all extra sentences and pages and keep only those pieces and thoughts that are really useful. Headway has an entire summary production team with writers, editors, and proofreaders that creates magic in the form of 5 chapters.
But don't be afraid. It's not just a dry text that is boring to read. Most impactful insights and quotes are highlighted in the most remarkable way. There is no chance that you will miss any of them!
Really enjoying the @get_headway app. It summarises bestselling books in 15 minutes. You can read it yourself or have it read to you. Perfect for morning walks. I've listened to 16 books in 3 days 💪

— Caroline Wellingham (@raisethebarlife)January 5, 2021
Authenticity and uniqueness
At Headway, every piece of content is original. The team picks the most outstanding books, and our talented writers turn them into 15-minute reads. No critical information is excluded from summaries! Only the best insights and minimum time to read them. What's more? Our groundbreaking illustrator creates all book covers! Take a minute to look into all the metaphors inside the book jackets. It's worth it!
One more outstanding feature of Headway is the customization of recommendations. After you fill the quiz, you get access to your account that processes all the information. Based on it, you get your very own book recommendations in the Today for you section.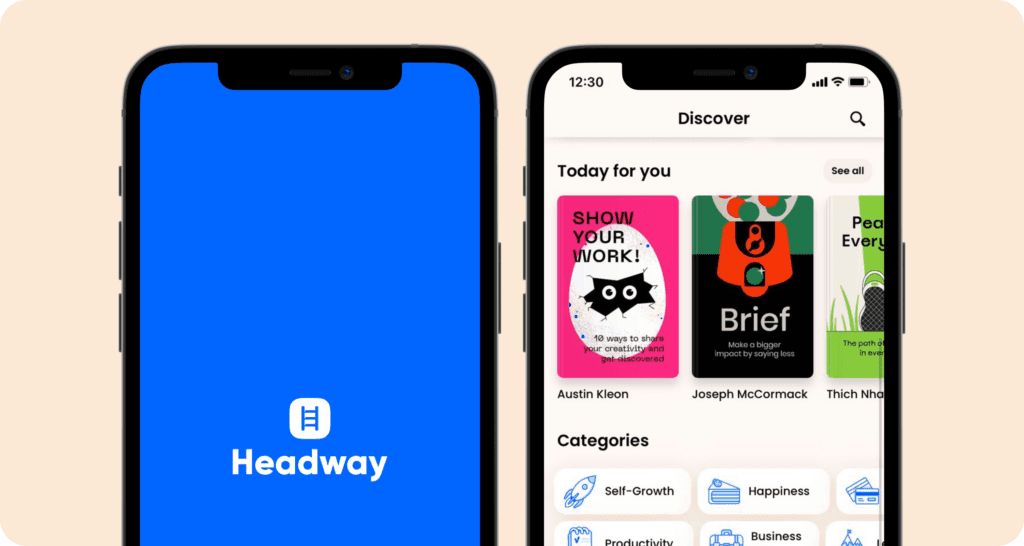 On top of that, there are editor-picked collections. We know that it can be a little overwhelming to see so many books and decide where to start. That's why collections are great helpers. Dive into multiple topics like productivity, self-growth, happiness, and many others. This is a great way to begin your journey with Headway!
If y'all are looking for that daily reading with inspiration to a new mindset and a new lifestyle @get_headway it's key!!! 💯

— channy (@cruzecontroldoe)January 21, 2021
Read & listen anywhere
Not only is there a massive collection of nonfiction book summaries, but there are also audio versions to every 15-min read! Whether you have a break at work or you don't want to waste your time on the road, it is a perfect option to learn and evolve any second given.
What's more? With Headway, you don't always need to have an Internet connection. You can download any summary or audio and read or listen to it at any moment. That's what we call limitless access to knowledge.
Loving the @get_headway app for my morning inspirational reading. Today I chose 'The Truths We Hold' by @VP @KamalaHarris. It's intriguing to see an insight into what makes a leader and what influenced her to get to where she is now.

— Fran Davison (@FranDavison94)January 22, 2021
Challenge accepted!
Do you struggle with sticking to consistency? Worry no more! We've created unique reading challenges for different goals. Choose what you want to achieve and follow the challenge to see amazing results in 28 days or less. But what's the fun without a little competition? Dare your friends to accept the challenge with you, see who will earn all achievements quicker, and don't forget to discuss the insights you enjoyed the most together!
Dive into the best insights
Not only are our writers the magicians of turning a book into 15-minute summaries, but they are also pros at highlighting key ideas and turning them into insights! There is no chance you miss them as we've created the most comfortable navigation through summaries so that you never miss important thoughts and words from the author.
But that's not all! Every day you get the portion of the most relatable Daily Insights inside the app. We know how important it is sometimes to share what inspires you with others. And it is possible with Headway! You can share Daily Insights to your Instagram stories and give others a glimpse of your source of motivation.
Memorize it!
One of the features that we are most proud of is Spaced Repetition. It is a proven learning technique that is based on flashcards and aims to help with memorizing. How does it work? It's simple! While reading a summary, you just need to select a word or an insight you'd like to memorize, and voilà — it turns into the flashcard in the Spaced Repetition section. Once you've learned certain information, the flashcard will be saved in your history. Don't forget to check and revise it. This feature is also perfect for readers who speak English as a second language. You can add the dictionaries you need to your flashcards and improve your vocabulary.
Celebrate your progress
In the Me section, you will find your reading achievements. Check out how well you are doing compared to other Headway users, set timing goals of how much do you want to read per day, and, of course, check your current streak! Don't worry; you will get reminders about how much time is left to finish your daily reading session, so you will never lose your score. That's an excellent idea for the intellectual competition between your friends, family, and colleagues.
Widgets all the way
Yes, that's correct. Now inspiration is always in your pocket and speaks to you every time you unlock your phone. Our team picks the best quotes and insights for Headway widgets to keep you motivated every second. And what can we say? Our users love this new feature!
Worldwide recognized app
Apple has already recognized Headway in categories like Popular Apps to Try, This Week's Favorite, Learn More Everyday, Read More, Achieve More, and New Apps We Love in more than 140+ countries. Headway's biggest markets are the USA, the UK, New Zealand, Canada, and more than 7 million users have already downloaded the app! Not bad for the app that appeared only in 2019, ha?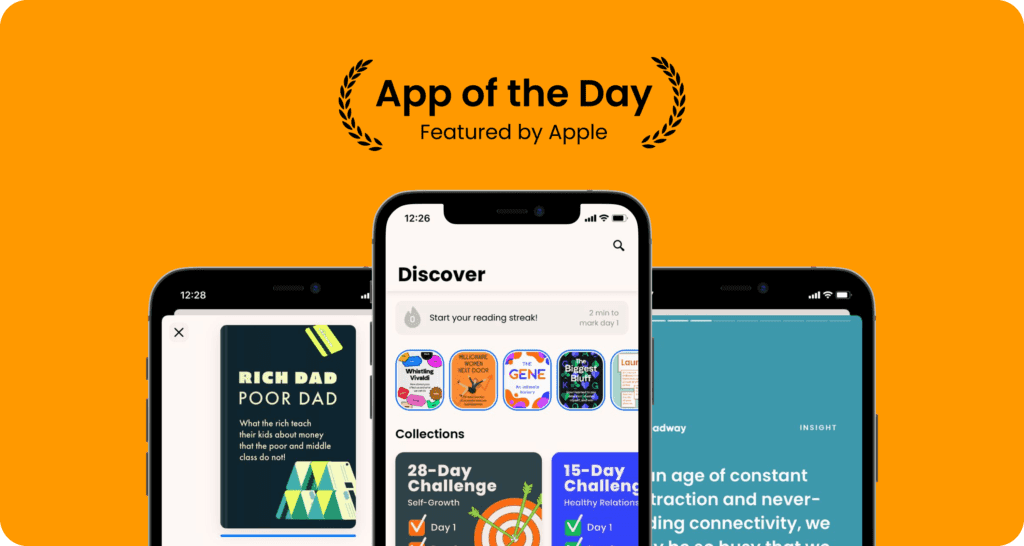 The outstanding team
Talented and inspired people who share one common goal is the best definition of the Headway team. Our mission is to provide every person on Earth with an easy way to learn and get knowledge from the world's best books. Being a multicultural international team, we share our experience and expertise with each other to make our product better. Every member of Headway is a brilliant specialist who adds uniqueness, passion, and new ideas to the app. People are the most significant value of Headway as they are the vital driving force that made the app successful.
We want more people to find out about Headway as we believe in what we do. Helping others become better and smarter is our primary goal, and we go towards it, steadily and firmly.
Download the Headway app now to join our fantastic community and change your life forever!