Discover the Headway app, your ultimate reading experience
Headway is the app created by readers for readers to provide every person on Earth with an easy way to learn and get knowledge
Headway Team
6 min
---
In today's world of infinite hurrying and busyness, we still have only 24 hours each day. Not that much to focus on self-development and growth, right? There is one neat and easy solution to this issue — the Headway app!
The Headway team has already picked the world's best nonfiction books that take only 15 minutes to read. Yes, that's correct! All titles have been remastered into summaries with key insights and tips.
It's a pity when you buy a book and get disappointed in its content. Don't worry; authors themselves do not like it when this happens to their work either. That's why Headway is a win-win tool for both sides. You can read a summary first and decide whether you would like to read the full version or not. If you have already read one, a summary can freshen your memory of the title's main ideas and insights. In the end, we have happy readers that have found exactly what they were looking for and happy authors who get their dedicated and admiring audience.
More than 5 million readers have already picked Headway as their ultimate source of wisdom and self-growth. Want to know more? Let's go!
What is a summary anyways?
Have you ever wished that you could read an entire book in 15 minutes or less without missing all the crucial information? After all, there are dozens of worthy titles in the world. However, even if you dedicated every single minute of your life to reading, that wouldn't be enough to dig into all the books. That's when summaries come to help.
Summaries are a unique piece of content written based on a book. The goal is to filter all extra sentences and pages and keep only those pieces and thoughts that are really useful. Headway has an entire summary production team with writers, editors, and proofreaders that creates magic in the form of 5 chapters.
But don't be afraid. It's not just a dry text that is boring to read. Most impactful insights and quotes are highlighted in the most remarkable way. There is no chance that you will miss any of them!
Really enjoying the @get_headway app. It summarises bestselling books in 15 minutes. You can read it yourself or have it read to you. Perfect for morning walks. I've listened to 16 books in 3 days 💪

— Caroline Wellingham (@raisethebarlife)January 5, 2021
Authenticity and uniqueness
At Headway, every piece of content is original. The team picks the most outstanding books, and our talented writers turn them into 15-minute reads. No critical information is excluded from summaries! Only the best insights and minimum time to read them. What's more? Our groundbreaking illustrator creates all book covers! Take a minute to look into all the metaphors inside the book jackets. It's worth it!
On top of that, there are editor-picked collections. We know that it can be a little overwhelming to see so many books and decide where to start. That's why collections are great helpers. Dive into multiple topics like productivity, self-growth, happiness, and many others. This is a great way to begin your journey with Headway!
One more outstanding feature of Headway is the customization of recommendations. After you fill the quiz, you get access to your account that processes all the information. Based on it, you get your very own book recommendations in the Today for you section.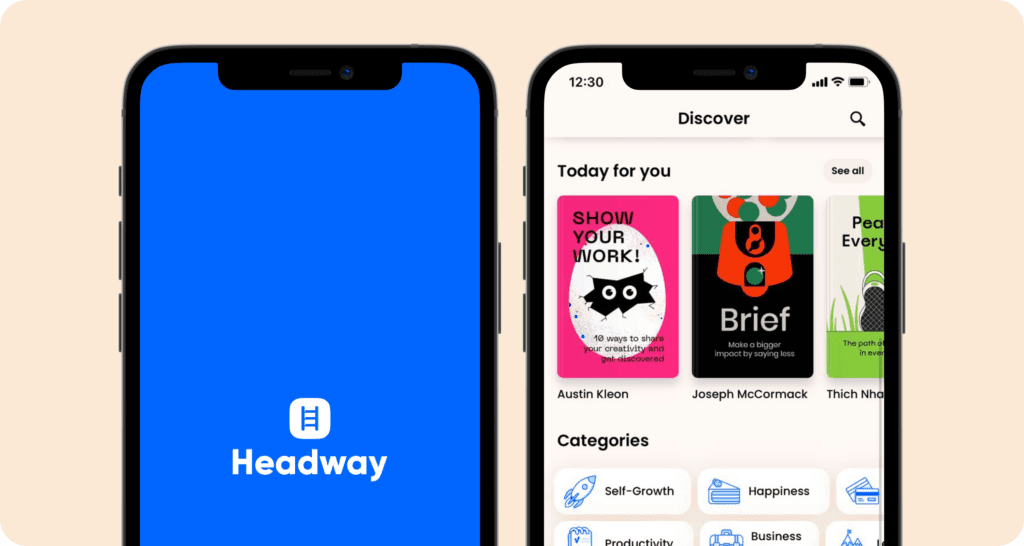 Read & listen anywhere
Not only is there a massive collection of nonfiction book summaries, but there are also audio versions to every 15-min read! Whether you have a break at work or you don't want to waste your time on the road, it is a perfect option to learn and evolve any second given.
What's more? With Headway, you don't always need to have an Internet connection. You can download any summary or audio and read or listen to it at any moment. That's what we call limitless access to knowledge.
Loving the @get_headway app for my morning inspirational reading. Today I chose 'The Truths We Hold' by @VP @KamalaHarris. It's intriguing to see an insight into what makes a leader and what influenced her to get to where she is now.

— Fran Davison (@FranDavison94)January 22, 2021
Challenge accepted!
Do you struggle with sticking to consistency? Worry no more! We've created unique reading challenges for different goals. Choose what you want to achieve and follow the challenge to see amazing results in 28 days or less. But what's the fun without a little competition? Dare your friends to accept the challenge with you, see who will earn all achievements quicker, and don't forget to discuss the insights you enjoyed the most together!
If y'all are looking for that daily reading with inspiration to a new mindset and a new lifestyle @get_headway it's key!!! 💯

— channy (@cruzecontroldoe)January 21, 2021
Dive into the best insights
Not only are our writers the magicians of turning a book into 15-minute summaries, but they are also pros at highlighting key ideas and turning them into insights! There is no chance you miss them as we've created the most comfortable navigation through summaries so that you never miss important thoughts and words from the author.
But that's not all! Every day you get the portion of the most relatable Daily Insights inside the app. We know how important it is sometimes to share what inspires you with others. And it is possible with Headway! You can share Daily Insights to your Instagram stories and give others a glimpse of your source of motivation.
Memorize it!
One of the features that we are most proud of is Spaced Repetition. It is a proven learning technique that is based on flashcards and aims to help with memorizing. How does it work? It's simple! While reading a summary, you just need to select a word or an insight you'd like to memorize, and voilà — it turns into the flashcard in the Spaced Repetition section. Once you've learned certain information, the flashcard will be saved in your history. Don't forget to check and revise it. This feature is also perfect for readers who speak English as a second language. You can add the dictionaries you need to your flashcards and improve your vocabulary.
Celebrate your progress
In the Me section, you will find your reading achievements. Check out how well you are doing compared to other Headway users, set timing goals of how much do you want to read per day, and, of course, check your current streak! Don't worry; you will get reminders about how much time left to finish your daily reading session, so you will never lose your score. That's an excellent idea for the intellectual competition between your friends, family, and colleagues.
Widgets all the way
Yes, that's correct. Now inspiration is always in your pocket and speaks to you every time you unlock your phone. Our team picks the best quotes and insights for Headway widgets to keep you motivated every second. And what can we say? Our users love this new feature!
Worldwide recognized app
Apple has already recognized Headway in categories like App Of The Day and New App We Love in more than 100 countries. Headway's biggest markets are the USA, the UK, New Zealand, Canada, and more than 5 million users already use the app! Not bad for the app that appeared only in 2019, ha?
The outstanding team
Talented and inspired people who share one common goal is the best definition of the Headway team. Our mission is to provide every person on Earth with an easy way to learn and get knowledge from the world's best books. Being a multicultural international team, we share our experience and expertise with each other to make our product better. Every member of Headway is a brilliant specialist who adds uniqueness, passion, and new ideas to the app. People are the most significant value of Headway as they are the vital driving force that made the app successful.
We want more people to find out about Headway as we believe in what we do. Helping others become better and smarter is our primary goal, and we go towards it, steadily and firmly.
Download the Headway app now to join our fantastic community and change your life forever!