Top 20 Books Every Aspiring Millionaire Should Read
Want to learn how to become a millionaire? Looking for the best financial books for beginners? Read this article to find out the best books for financial literacy.
---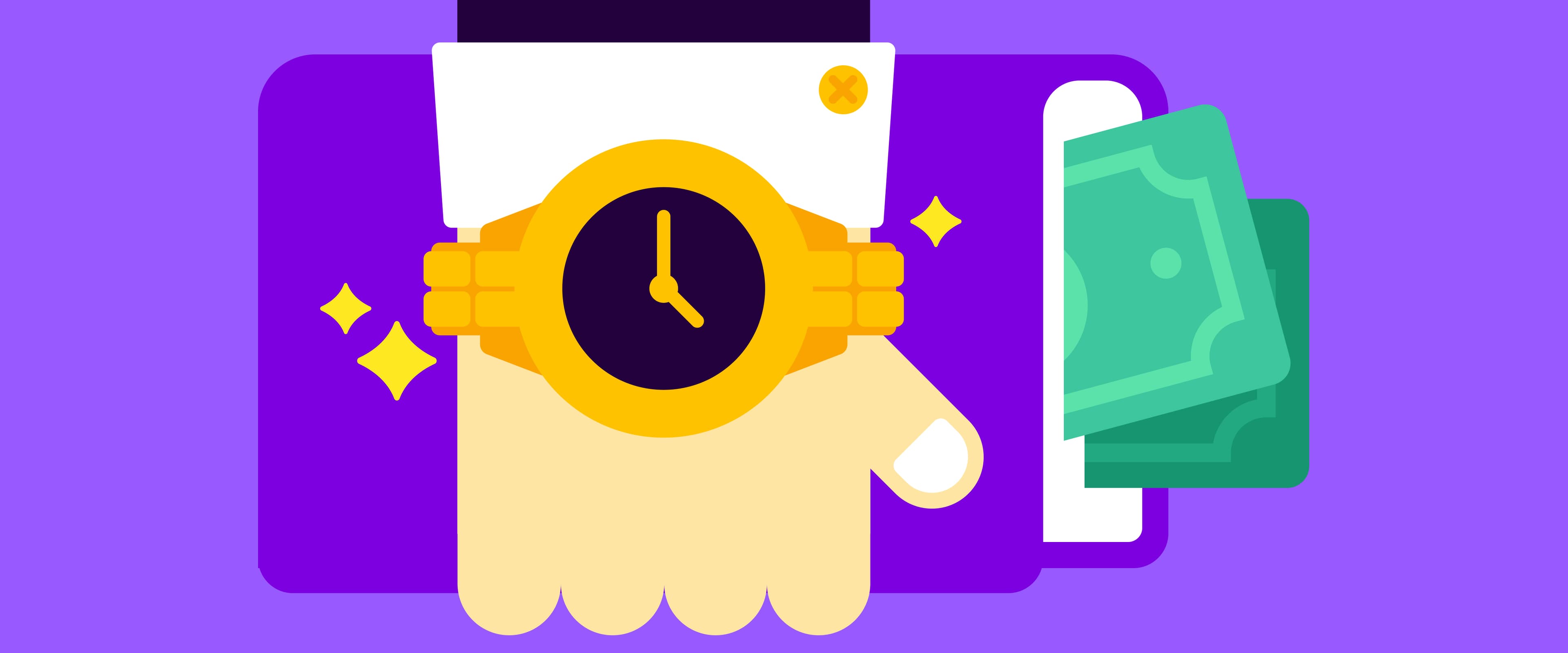 Everyone wants to be a millionaire, but there are a select few who are willing to do what it takes to make it happen. The majority of successful people started out just like everyone else – debt-stricken, working measly 9-5 jobs, and wondering if there's more to life than living paycheck to paycheck. But what exactly made them more likely to rake in the dough than any other person?
If you want to learn how to make millions alongside the world's elite, there are a few things you'll need to understand first. Nearly all financial books will tell you the same thing: there's a secret to the way a millionaire's mind works that everyone else simply doesn't get. The right book will therefore show you the principles that millionaires have put in place to achieve their successes and teach you how to apply them.
Luckily, most of what you need to know can be found right on the pages of a book. For those looking to get a headstart in the rat race, take a look at this list of some of the best financial literacy books to propel you on your journey toward a multi-millionaire lifestyle.
Key Points: 

Becoming a millionaire certainly isn't an easy feat, but it can be achieved with the right knowledge and mindset. Reading the right financial books can put you ahead of others by teaching you the foundational steps toward achieving multi-millionaire success.

Aspiring millionaires can look to books by influential people to offer them guidance on how to increase their income or build a successful business. Some of the best financial books worth mentioning include Rich Dad Poor Dad by Robert Kiyosaki and The 7 Habits of Highly Effective People by Stephen R. Covey.

Many people would like to improve their financial literacy but don't have enough time. Fortunately, the Headway app allows you to gain unlimited access to 15-minute book summaries so that you can read key ideas from hundreds of books in little time.

20 Best Books to Read for Aspiring Millionaires
Money may not be everything in life, but everyone can agree that having a lot of it to spare definitely helps. Whether you're looking to become a millionaire or you simply would like to make extra income, reading the right books will teach you the fundamental principles of achieving financial freedom. Here are our top picks for some of the greatest financial literacy books of all time.
Secrets of the Millionaire Mind: Mastering the Inner Game of Wealth by T. Harv Eker
In Secrets of the Millionaire Mind, influential businessman T. Harv Eker takes readers on a fascinating journey through the psychology of millionaires. Based on the idea that millionaires all follow similar habits, Eker aims to demonstrate how people unconsciously develop behavioral patterns regarding finances and spending from their parents. According to Eker, these lessons taught in early childhood often influence a person's ability to make money later on and can pre-determine their wealth in adulthood.
The Financial Diet: A Total Beginner's Guide to Getting Good With Money by Chelsea Fagan and Lauren Ver Hage
If you are a young adult who doesn't know the first thing about how to manage your finances but somehow wants to build an empire of wealth, this book will serve as your primary teacher. Intended for the total beginner, The Financial Diet offers a rational perspective on money saving and getting a better grip on your finances. By the end of it, you'll be able to improve your relationship with money and implement valuable strategies as a foundation for more advanced wealth-building later on.
You Are a Badass at Making Money: Master the Mindset of Wealth by Jen Sincero
Written by a successful entrepreneur, Sincero's You Are a Badass at Making Money offers a humorous take on kickstarting your way to financial freedom. Using masterful mental tools, Sincero underlines the importance of getting realistic with your financial goals and viewing money as good rather than evil. As the theory goes, changing the way you see money and putting positive energy out into the universe will help create a reality in which you attract wealth and abundance tenfold.
The Next Millionaire Next Door: Enduring Strategies for Building Wealth by Thomas J. Stanley and Dr. William D. Danko
If you've heard of the classic book, The Millionaire Next Door by Thomas J. Stanley, you'll be stunned to hear about its famous successor, The Next Millionaire Next Door. Written by Stanley's exceptionally-talented daughter, Sarah Stanley helps modern entrepreneurs with updated financial research to match today's market. As a matter of fact, in her findings taken from a survey conducted of rich Americans, discipline was noted as being the most important success factor.
The Science of Getting Rich: The Proven Mental Program to a Life of Wealth by Wallace D. Wattles
A powerful inspiration for many modern finance gurus, The Science of Getting Rich illustrates an effective scientifically-backed principle of building wealth through mindset alone. In his 1910 book, Wattles lays early foundations for what is now known as the Law of Attraction and the idea that riches are not achieved out of pure luck but attracted by the energetic vibrations of a high-frequency mindset. With lessons like how to overcome emotional barriers and apply infallible methods to your financial life, this book remains a breath of fresh air even after a century.
The Richest Man in Babylon by George Samuel Clason
Published in 1926 and continuing to stand the test of time, Clason's The Richest Man in Babylon is a must-read for anyone looking to build wealth. In this book, you'll learn about the ancient city of Babylon – once the wealthiest city in the world – and how its inhabitants appreciated the value of money. Using principles gathered from the richest of the Babylonian people, Clason stresses the importance of saving at least 1/10 of everything you earn and more if you can afford it. For both history buffs and aspiring millionaires, this book is one you won't want to miss.
Rich Dad Poor Dad by Robert Kiyosaki
In his soon-to-be classic book, Rich Dad Poor Dad, Robert T. Kiyosaki tells inspiring tales from his childhood as he grew up with two dads on varying sides of the financial spectrum. Taking advice from both his father and his friend's father, the author aims to bust the myth that the rich are born rich and provides lessons on how to embrace failure as a valuable learning strategy. "For most people," Kiyosaki states, "their profession is their income. For rich people, their assets are their income."
Everyday Millionaires by Chris Hogan
The 2019 book, Everyday Millionaires began gaining steam as a fresh and modern perspective on the financial scene. While most authors will boast about the "getting rich quick" scheme, Hogan teaches a slower-paced method that yields long-term results. In his financial lessons, Hogan also busts a long-time financial myth that you need to take foolish risks with your money to get rich. Instead, he emphasizes the need for intentional investments and working hard for what you earn.
The Automatic Millionaire by David Bach
The New York Times bestseller, The Automatic Millionaire, offers a unique yet simple perspective on achieving financial freedom. Rather than strictly budgeting all your finances and missing out on life's pleasures, Bach explains that all you really need is a firmly laid out plan to serve as your guide. This book is straight to the point and boasts a wealth-building philosophy described in seven points, the first three of which some may find controversial:
You don't have to make a lot of money to be rich.

You don't need discipline.

You don't need to be "your own boss."
At the end of the day, Bach lives by the idea that getting rich doesn't have to be complicated and can be done with his powerful one-step strategy.
I Will Teach You to Be Rich by Ramit Sethi
A notorious and honest-to-goodness bestseller, I Will Teach You to Be Rich provides readers with a guilt-free, no-excuses program to gain control of their finances. To help you reach your goals, Sethi explains various financial concepts, such as the way banks work, methods to invest safely yet effectively, and how to improve your credit rating. In just six weeks, Sethi outlines pragmatic steps to set you forward on your journey toward financial freedom without all the wishy-washy nonsense that many others in the financial field boast.

The Total Money Makeover: A Proven Plan for Financial Fitness by Dave Ramsey
In The Total Money Makeover, Ramsey offers an in-depth program detailing how to free yourself from debt and maintain a financially-abundant lifestyle. This book offers several practical lessons on saving money long-term, including but not limited to:

Paying with cash only.

Putting $1000 away in an emergency fund.

Listing off all your debts and starting with the smallest one first.
No one likes to hear that they are being irresponsible with their money, but Ramsey aims to dispel rumors that it's impossible to become wealthy even after being thousands of dollars in debt. With Ramsey's tips, you can work your way up the financial ladder by being smart and serious with your money.
Million Dollar Habits: Proven Power Practices to Double & Triple Your Income by Brian Tracy
If you've ever wondered why some people become successful while others do not, this book may be perfect for you. Million Dollar Habits outlines mental tips and tricks that wealthy people follow, such as acknowledging that your current self or situation is determined by your own choices. In a series of habits, Tracy suggests taking charge of your life by setting forth into the world by learning new skills and responding to all situations with perseverance and a willingness to keep working hard.
The 7 Habits of Highly Effective People by Stephen R. Covey
There are normal, everyday habits, and then there are habits that rich people follow to continue reaping their financial abundance. In The 7 Habits of Highly Effective People, Stephen R. Covey teaches the path to success through seven powerful practices designed to change your fundamental attitudes and behaviors. The habits are as follows:

Be Proactive

Begin with the End in Mind

Put First Things First

Think Win-Win

Seek First to Understand, Then to Be Understood

Synergize

Sharpen the Saw
In essence, Covey's methods to achieving success involve maintaining a good character ethic and positive perceptions of the world.
Blue Ocean Shift: Proven Steps to Inspire Confidence and Seize New Growth by Chan Kim and Renee Mauborgne
For people who dream of starting a business but are afraid of failure, Blue Ocean Shift strives to instill confidence and help you increase your chances of success through competitive strategies. A "blue ocean," as Kim and Mauborgne call it, is a brand new niche that has yet to be overtaken by competitors — a broad yet profitable market for new business owners. By focusing on customer experiences and making innovative moves in your industry, this book can serve as a guiding force to steer you in the direction of growth.
The Little Book of Common Sense Investing: The Only Way to Guarantee Your Fair Share of Market Returns by John C. Bogle
A major reason why people don't invest is that they are afraid of the risks involved. After all, people lose thousands of their hard-earned cash in the stock market every day. In The Little Book of Common Sense Investing, John C. Bogle aims to put those fears to rest once and for all by demonstrating how to invest properly and hassle-free. This book will teach you why Bogle's invention of the index fund serves as a safe and stress-free way of investing and how you can get started with one to build your wealth.
The Success Principles: How to Get From Where You Are to Where You Want to Be by Jack Canfield
The Success Principles details 64 valuable lessons that Canfield learned on his journey to becoming an entrepreneur, author, coach, and motivational speaker. Known for his work in co-authoring the popular series Chicken Soup for the Soul, Canfield takes a turn in the financial sector to share the straightforward methods that helped him on his road to success. From eliminating negative thoughts to setting one weekend aside to complete all your unfinished tasks, this book stresses positivity and productivity on a new level.
The 10X Rule: The Only Difference Between Success and Failure by Grant Cardone
In The 10X Rule, Cardone argues that success happens to those who are willing to work ten times harder than the average person. To illustrate, a powerful quote that stands out from this book is, "As long as you are alive, you will either live to accomplish your own goals and dreams or be used as a resource to accomplish someone else's." With this book, you will learn how to take control of your financial destiny by putting in the effort, making no excuses, and viewing success as a responsibility rather than a luxury.

Your Money or Your Life: 9 Steps to Transforming Your Relationship With Money and Achieving Financial Abundance by Vicki Robin, Joe Dominguez, and Monique Tilford
Most people are spending their lives in jobs they despise in order to make a living, wearing them out in the process and leaving no room for personal development. Your Money or Your Life is an insightful approach to making peace with your past approach to finances and becoming more present in how you make money. Achieving financial abundance, in the eyes of Vicki Robin, means having enough money to live freely without the fear of running out; working toward this moderate goal may help you build fortunes later on.
Rich Habits: The Daily Success Habits of Wealthy Individuals by Thomas Corley
The renowned manifesto, Rich Habits, sets out to prove the key differences between rich and poor people in terms of mental approach and how they grow up. Assigning a set of 10 Promises that serve as affirmations to help attract wealth and abundance, Corley argues that our daily habits are the cause of our financial situation. Readers can therefore learn to adopt the habits of the rich and fall away from poor money-making practices.
Unshakeable: Your Financial Freedom Playbook by Tony Robbins
Arguably one of the most popular voices in the financial world, Unshakeable is written by the nation's top life and business strategist, Tony Robbins. In his best-selling book, he encourages readers to take part in smart wealth-building strategies such as investing in index funds and compounding your wealth. While Robbins' teachings likely won't get you rich quickly, they certainly will help you grow your wealth on a solid and secure foundation.
Read the Best Financial Books with Headway
The first step toward becoming a millionaire is learning what it takes to get there; the next step is putting it into action. Reading books on financial literacy can help you become more capable of managing your income and expenses. In turn, using effective money-saving and investment strategies could put you on the right track to building your wealth.
Unfortunately, many people lead busy lifestyles that prevent them from being able to read books that fortify their personal development. If this is the case for you, the Headway app offers a unique solution for entrepreneurs on the go. With this app, you can listen to short summaries of the best financial planning books to gain hours of valuable learning in less than half the time.
Don't have time to read all these books on financial independence? Download Headway to receive unlimited access to 15-minute book summaries.
Frequently Asked Questions
How can books help me learn how to become a millionaire?
Books about making money serve as valuable tools in building wealth and cultivating financial literacy. While reading one financial book alone won't make you a millionaire overnight, learning the concepts and strategies discussed in the book can give you insightful tips and tricks into the work you need to do to get there. If you want to become a millionaire, use financial books as a stepping stone, rather than a strict manual, to achieving your money-making dreams.
What books should I read if I want to make money fast?
Many of the best financial books for beginners advertise their ability to get readers rich quickly. While many methods exist to make money fast, building wealth is a long-term investment that requires patience and perseverance. In I Will Teach You to Be Rich by Ramit Sethi, you can learn effective money-making strategies in a short six-week program. However, if you are willing to play it safe and wait a little longer to reap large benefits, consider picking up Everyday Millionaires by Chris Hogan.
Which books are best for starting a business?
People looking to start a business should look to books that specialize in market growth and building profit. Blue Ocean Shift by Chan Kim and Renee Mauborgne is a great resource for those starting a business, as it features several strategies designed to get you ahead in a profitable niche market. Moreover, The 7 Habits of Highly Effective People by Stephen R. Covey can serve as a valuable asset in learning how to improve your character habits to carve your path toward a successful business.