A concise, engaging, and practical guide to surviving in any creative circle, The War of Art is just like Sun-Tzu for the spirit. It underlines the key ways to perceive and overcome the hurdles in front of you when chasing your future aspirations and successfully tells the best way to achieve the highest level of creative discipline. In this summary, you will learn how to stand firm and keep pushing forward in the face of resistance. It doesn't matter if you are an entrepreneur, a craftsman, or an author; this basic, personal, and straightforward summary will enable you to realize your life potential. Steven Pressfield is an American author renowned for his works in the fiction and non-fiction genres. Here, he brings together the very best of his knowledge to help you understand your own potential. "Our job in this life is not to shape ourselves into some ideal we imagine we ought to be but to find out who we already are and become it." ~ Steven Pressfield
Key points
1
A psychological power called resistance restricts our undertakings and influences us
Have you at any point had an aspiring dream, however, failed to follow up on it? Maybe you needed to compose a fantastic song or start a new business venture, yet a specific feeling kept you down? That feeling is called resistance — the force that shields us from accomplishing our fantasies and achieving what we are intended to do.

It is natural for our bodies to resist anything new in our routines. Resistance is negative and generally opposes change or anything new. For instance, if you want to apply for a graduate course, resistance will be the voice that urges you to stick with your current degree and not go out on a limb on an undertaking that you might not complete. If you want to start going to the gym, resistance will be the voice that lets you know it is not necessary to go to a gym; you will just do squats at home when you feel like it.
The feeling of resistance is expected. It's indifferent and universal, and it affects all of us.
Resistance additionally doesn't specify interests — you'll feel resistance if you want to accomplish something for yourself, like starting a new business or something to help other people, like volunteering. You must acknowledge that resistance is natural, so quit feeling that it is targeting only you.

Resistance even influences individuals who are experienced at what they do. For example, Singer Lorde often gets severe stage fright before her shows. Being a famous singer doesn't prevent her from becoming overwhelmed by feelings each time she performs.
Rule of thumb: The more important a call or action is to our soul's evolution, the more Resistance we will feel toward pursuing it. ~ Steven Pressfield
Resistance can pop up in several ways, for example, the fear of disappointment, procrastination, and self-doubt. In the following sections of this summary, you will discover how to overcome resistance by staying true to your specialty and refocusing your fantasies. You will also learn to accept resistance as a standard and vital part of your journey.
2
Resistance prevents us from becoming who we are intended to be, but we should learn to use it to our advantage
Is there something in life you believe you were intended to do? Maybe you want to sculpt animals or do interior decoration? That is your reason for living: the most incredible passion that fulfills your spirit's yearning.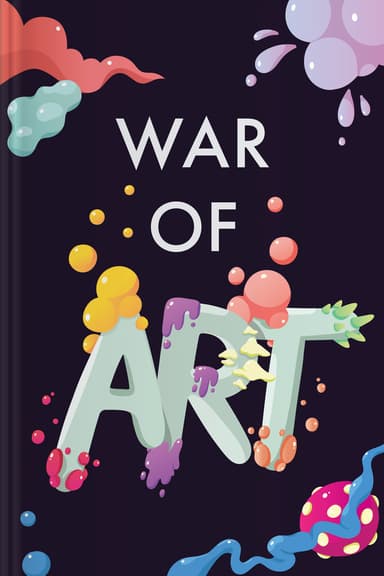 Other chapters is waiting for you in the app
3
You need to be a professional to battle resistance
4
Knowing yourself and your trade makes you an expert
5
A competent person overcomes resistance by being persistent, organized, and boldly confronting misfortune
6
Experts fight against hierarchies to accomplish their objectives
7
Competent individuals concede to a specific territory where they work to accomplish their objective
Listen the first key point