"Brewing Up A Business" by the founder of Dogfish Head Craft Brewery, Sam Calagione, opens your eyes to the previously undiscovered secrets to business and success. With this tidbit, Sam Calagione takes you along on a rollercoaster ride through his own life, showing you the ups and downs he faced while still giving you clear and concise advice on how to succeed in your given business field. Sam Calagione is the founder and owner of "Dogfish Head Craft" Brewery in Milton, Delaware, a fast-growing independent brewery in the U.S., and "Dogfish Head Brewing and Eats" in Rehoboth Beach, Delaware. His creative and innovative brewing technique style has earned him a James Beard Award and reputation as one of America's most adventurous brewers. He has featured in The Wall Street Journal, USA Today, People, Forbes, Bon Appetit, and many other magazines and newspapers. Sam Calagione managed to carve out a niche for himself and excel beyond expectations. His business is a testament to the message of creative and innovative thinking in this tidbit. "The sheer magnitude and sameness of mass-produced and mass-marketed goods that Americans have grown to expect can be disorienting." ~ Sam Calagione
Key points
1
Success is attainable regardless of your background
The common opinion about unruly people and breaking the rules is that they are bound for failure, but sometimes, they go on to be huge successes. However, this preconceived notion is false. If anything, all it does is hold people back by making them feel as though they have nothing to give because they are in those brackets.
What holds many people back is not their background but the stereotype attached to them because of their experience.
Sam Calagione tells the story of getting kicked out of his high school two months before graduation. He starts this summary on this note, making sure to highlight the disappointment his father felt at that moment and the disappointment he felt in himself. While this was one of his lowest points, it was also a significant turning point in his life that set him on the path to starting his business.

According to Sam Calagione, he was a very rebellious kid and was always constituting a nuisance, wreaking havoc and challenging authority. He did not stop there. In subsequent years, he had moved ahead to drink and drive a Winnebago on prom night in a quite reckless manner, sneaking beer into school premises, leaving him and his friends in various states of drunkenness, and much more. As would be expected, school authorities and pretty much everyone else could not picture him becoming successful at doing anything but constituting a nuisance, wreaking havoc, and challenging management.
The truth is that your background does not stop you from success. It all boils down to personal goals and belief in one's self
He exhibited creativity even though he was a miscreant, and it is this same creativity that his business — Dogfish Head Craft Brewery — thrives. If you decide deep in your heart that you are going to be someone, then you will.
2
The underdog is capable of mainstream success
The world of business plays host to many characters, and the underdog gets the least attention. The underdog is anyone with low odds for success; the individual with higher odds to win is called the favorite or top dog. In the case where an underdog wins, the outcome is an upset.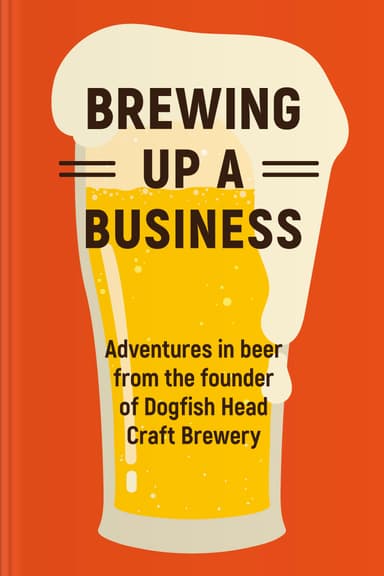 Other chapters is waiting for you in the app
3
The key to finding a balance between your work life and your life outside of work
4
Your business does not have to go through every rough patch
5
Once you find your target market, design products best suited for that market
6
Going public with your business does not have to drain your pockets; you have to give the customers something to look for
Listen the first key point