In 2015, Emily Doe, was raped at a student party. Before the publication of her victim impact statement on BuzzFeed, her life, thoughts, and pain remained unknown. This letter received millions of views, became an essential part of the MeToo movement, and sparked a flame in the hearts of all who wanted justice. The girl's real name is Chanel Miller. Working on the book helped Miller fight her pain and turn it into strength. Her grief became confidence, and a new goal appeared in her life — to lend a helping hand to everyone who has suffered from the cruelty of the world. Acclaimed writer and Glamour Woman of the Year Chanel Miller still believes that life is incredible. Know My Name is a book about how to seek the strength to move on. "Stay tender with your power. Never fight to injure, fight to uplift. Fight because you know that in this life, you deserve safety, joy, and freedom. Fight because it is your life. " ~ Chanel Miller
Key points
1
The night when everything changed
Chanel Miller had been modest since childhood. She always tried to be fair and did not make noise, like other children. These small details about her are important because she was afraid to reveal her identity and real name for a long time.

On January 17, 2015, Miller went to a student party with her sister Tiffany and friend Julia. The party was held at Stanford, and the sisters' mother agreed to give them a ride. At that time, Miller was no longer a student. As she was not really a party person, she wanted to stay at home, but had no plans for the evening and decided to be with her sister.

Allowing herself to relax, she drank and had fun like the other students. But at some point, a gap appeared in her memory because of the alcohol. Miller woke up in the hospital with blood on her arms and no underwear. A representative of the authorities said that she may have been sexually assaulted. At first, Miller could not believe what had happened. Later, she realized why rape victims recognize and understand each other without words. When a person is left alone with feelings, emptiness overwhelms them, and their personality seems to slip away.
When a tragedy divides your life, remember the power of your voice and name.
At that moment, Miller's life was divided; she endured pain and loss but found a voice to reach out to thousands of girls who suffered a similar tragedy. She decided to tell her story boldly, honestly, and sincerely. The summary contains descriptions of disturbing themes that could trigger sensitive readers. It is a real story about strength and lust for life.
2
The first reaction after sexual assault is shock and denial
Chanel Miller remained in the hospital while the evidence was collected. Her underwear were taken away, and the Sexual Assault Response Team (SART) took photos of her body and genitals. There were branches and pine needles in her hair and abrasions on her body. The service staff did everything to help her keep calm and not feel ashamed.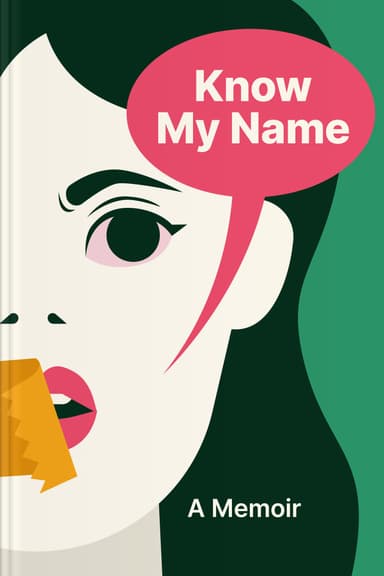 Other chapters is waiting for you in the app
3
Before the fight, make sure you are not alone
4
It is easier to divide the burden of anxiety into two
5
Fight for the truth, but don't forget that life is happening around you
6
First steps on the way to the truth
7
Look around when you feel bad; you'll see the world is still beautiful
8
Yes and no are two words that can change the world
9
Life after the pain is possible
Listen the first key point