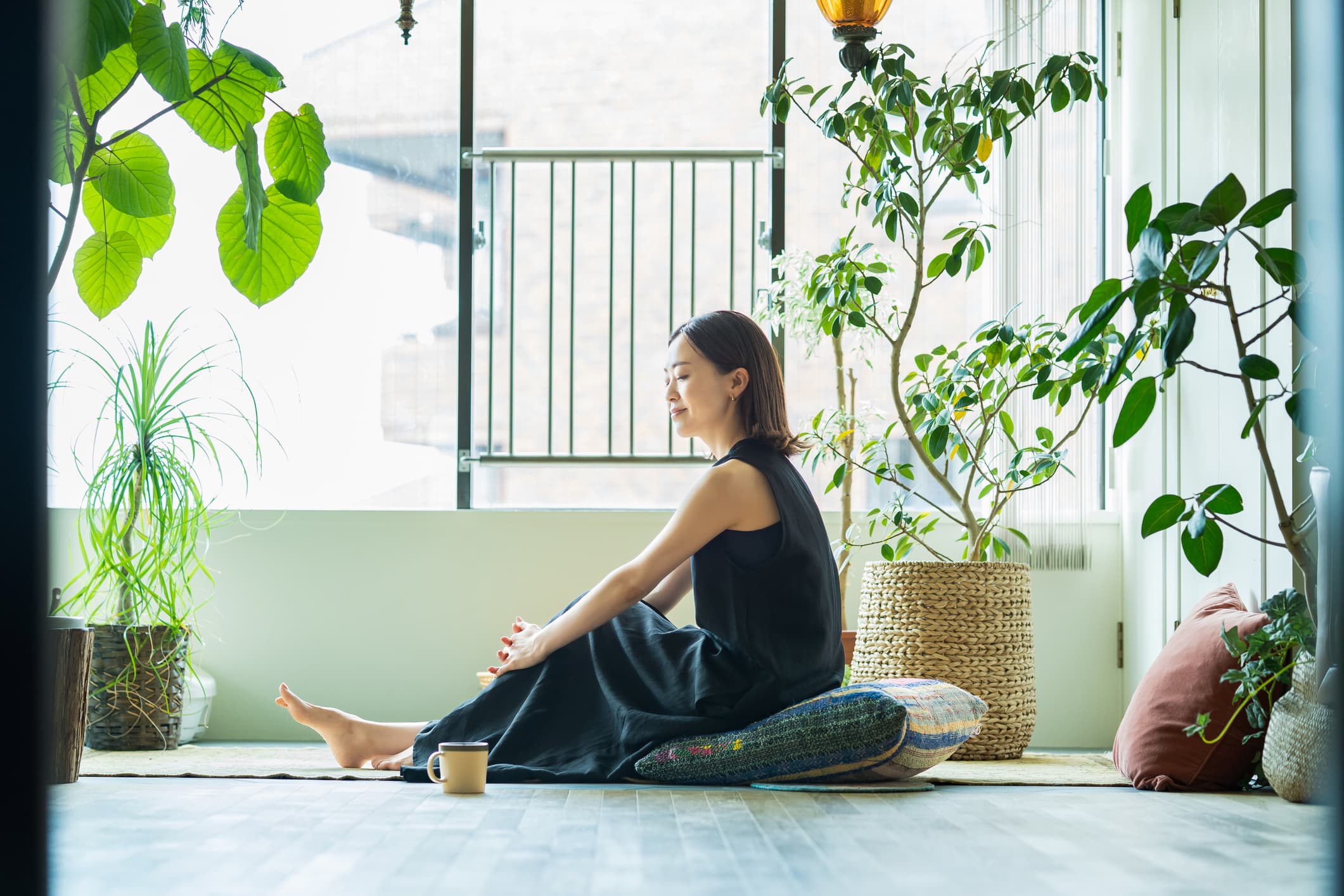 How to Improve Yourself Everyday: 21 Personal Growth Challenges
Are you learning how to improve yourself every day? Start a self-care challenge and transform your life with these 21 daily challenges to become a better person.
---
Starting a self-growth journey is challenging when you don't know what you want. However, understanding why you're doing it can empower you to make positive changes in your life. Instead of making drastic shifts, the most significant growth comes when you commit to daily habits to improve your well-being. 
Knowing what steps to take depends on the goals you want to achieve. For example, a self-care challenge can help you take breaks and balance work with leisure. There are numerous self-growth challenges to do, including: 
reading challenges;

fitness challenges; 

healthy eating challenges; 

productivity challenges; 

confidence challenges; 

self-care challenges; 

mental health challenges;

wealth challenges. 
Setting achievable daily challenges for yourself can help you sustain momentum and develop effective habits. Motivating you to complete daily challenges is what Headway is all about! Our Headway app provides detailed book summaries that make reading accessible for all. And since we're experts in helping people build sustainable practices, we've found the best self-growth challenges to support your journey. 
Discover the ultimate list of challenges to do when you're unsure of your next step toward personal growth.
Ideas to inspire your self-growth challenge
There are so many ways to partake in a self-growth challenge. You can do different daily activities that contribute to a broader goal. For example, a confidence challenge might change each day. Alternatively, pick one activity to repeat daily to form a habit in that area.
These self-improvement challenges will help you find the best method for you. You'll find standalone challenge ideas to curate your plan and structured self-growth challenges you can start today!
1. Reading challenges to broaden your bookshelf
Although you'll find a few reading challenges in this list dedicated to various goals, you might want to try these self-challenge ideas for the simple pleasure of reading. If you wish to explore more genres or boost your creativity, here are some ideas to kickstart your reading challenge:
read a book from a new genre every month; 

read a certain number of pages every day (or one chapter a day!);

set yourself a monthly or yearly target to read a particular number of books;

switch up the way you read. If you're used to reading paperbacks, try audiobooks, e-books, or detailed book summaries, like the ones on the Headway app.
2. Daily mindfulness challenge 
Studies show mindfulness benefits physical, mental, and emotional well-being. With guided meditation apps and online resources, starting a mindfulness practice has never been easier. If you're new to meditation, try five to ten minutes a day. If you struggle with habit-building, stick to this for 30 days, so your focus is on showing up for the activity. Alternatively, increase your meditation each week to maximize the benefits of the practice. 
3. Writing everyday challenge
Writing is a fantastic tool, even if you don't consider yourself a writer. The type of writing challenge you pick will depend on your goals. Some personal development challenges help you manage emotions or improve positive thinking. In contrast, others will spark your creativity and free your imagination.
Remembering that your writing doesn't have to be a masterpiece is helpful. It can be a personal activity you keep to yourself or a creative resource you can draw inspiration from in the future. Writing is an excellent self-growth challenge that encourages a creative outlet.
Here are a few examples of how you can start writing every day:
start a daily gratitude practice by writing five things you're grateful for;

write about your day, the dreams you remember, the goals you're working towards; and your memories;

brainstorm and write a piece of fiction (use a prompt if you get stuck!);

write poetry.
4. Learn a new language 
Rather than aiming to learn a language, set a specific target per this broader goal. For example, learn a phrase every day, watch a TV episode, or understand a song in the language you're studying.
5. Start a relationship challenge 
At Headway, we have numerous self-growth challenges to try. Since the people around us heavily impact our lives, nurturing those relationships and being mindful of how you interact with others is essential. Healthy Relationships is our 14-day challenge that aims to:
build empathy, intimacy, and affection;

help you control your emotions;

spark deeper conversations.
Discover nonfiction gems from The 5 Love Languages to Attached and All About Love. Each book summary provides advice from relationship experts. Although this is a personal growth challenge, it's also an excellent opportunity to learn alongside your partner. Discussing the daily task is valuable for growing and deepening your connections. Download the Headway app to start the Healthy Relationships challenge!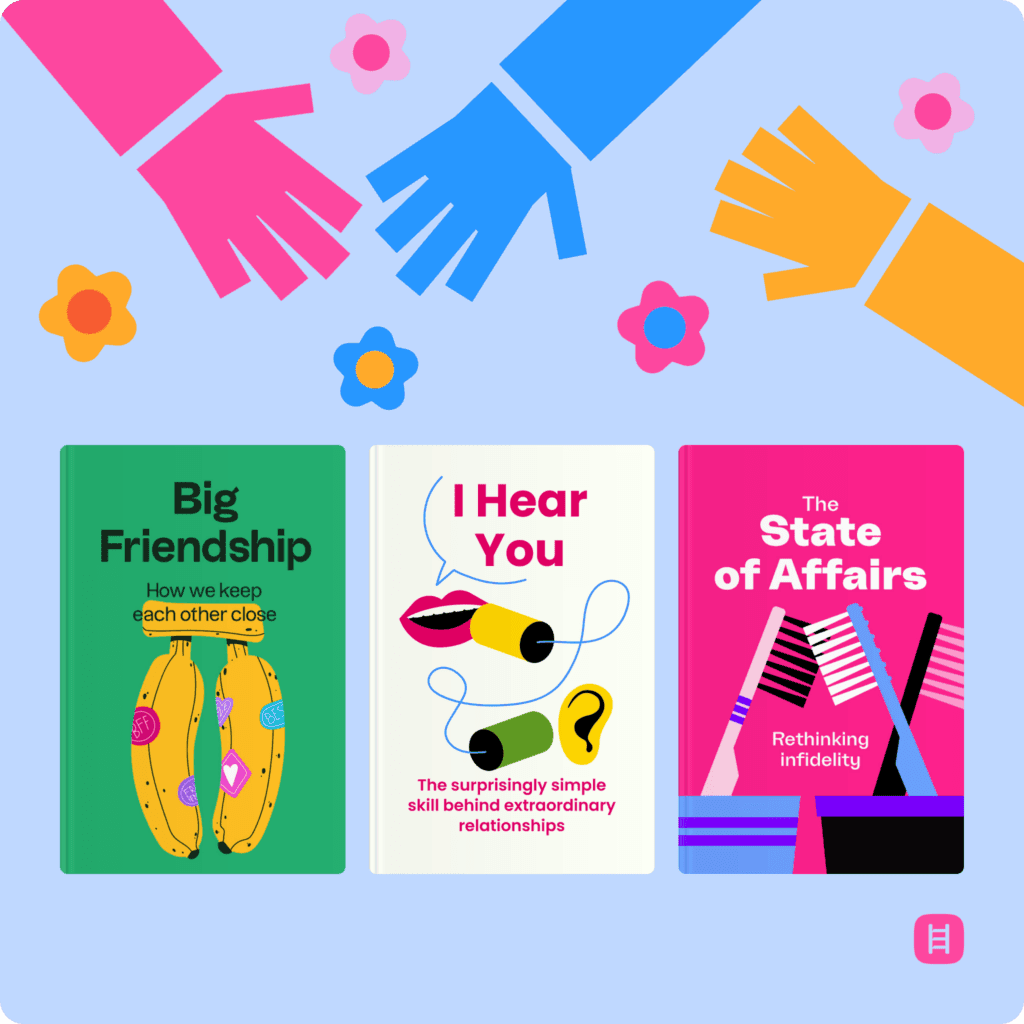 6. Start your mornings an hour earlier 
Early starts aren't for everyone, but sometimes having extra time in the morning can level up your lifestyle. Set yourself a target to wake up one hour earlier than usual. These 60 minutes give you more time to get ready, practice a new hobby, or enjoy a delicious breakfast. The additional time doesn't have to be full of activity; you may spend the hour leisurely drinking coffee. Simply having the option to go slower when you wake up might reduce stress — especially if you're usually running late. 
7. Meal prep challenge
Suppose you're in the habit of skipping meals, running out the door with a cup of coffee, or grabbing lunch on the go; this is for you. A meal prep challenge can save money and help you be more mindful of your food consumption. Try to plan your meals at the start of the week and begin with one meal at a time, such as lunch. 
8. Try a plank challenge 
Physical challenges vary depending on which muscles you want to target. A plank challenge is a fun way to push yourself if you're short on time! Start day one by holding a 20-second plank and increasing it regularly. If you commit to a week, increase the time by ten seconds daily. If you do it for a month, increase the time by 30 seconds weekly. Adjust the times to suit your body and enjoy a quick daily challenge that you can do from home.
9. Do one act of kindness each day
Doing challenges to better yourself also includes helping other people. You may think being kind is simple, but many feel anxious about these interactions. Remember, a kind act doesn't have to involve a grand gesture; it can also be a simple compliment, holding the door for someone, helping a friend with their resume, and so on. 
10. Join the self-confidence challenge
At Headway, we understand that when you're confident in yourself and your abilities, it is easier to strive toward your goals. That's why we put together the ultimate self-confidence challenge to empower you to feel your best and level up your skill set. Over this 14-day challenge, you'll learn from professional speakers and authors about the art of communication, decision-making, and self-esteem. 
The Self-Confidence challenge will help you boost the following skills:
networking;

negotiations;

meaningful small talk;

self-confidence;

willpower.
11. Healthy eating challenge 
Are you trying to balance your food intake? Changes to your diet don't have to be drastic to be effective. For example, if you're lacking in the vegetable department, add one more vegetable to your plate daily. Alternatively, try a new healthier recipe each month. 
12. Listen to one podcast a week
Listening to experts and people with similar experiences is a valuable way to enhance your self-growth journey. Podcasts give you access to influential figures and underrated platforms all in one space. While some people might be able to listen to one podcast per day, others may have a limited amount of time. Instead, listen to one episode each week and split it into daily segments.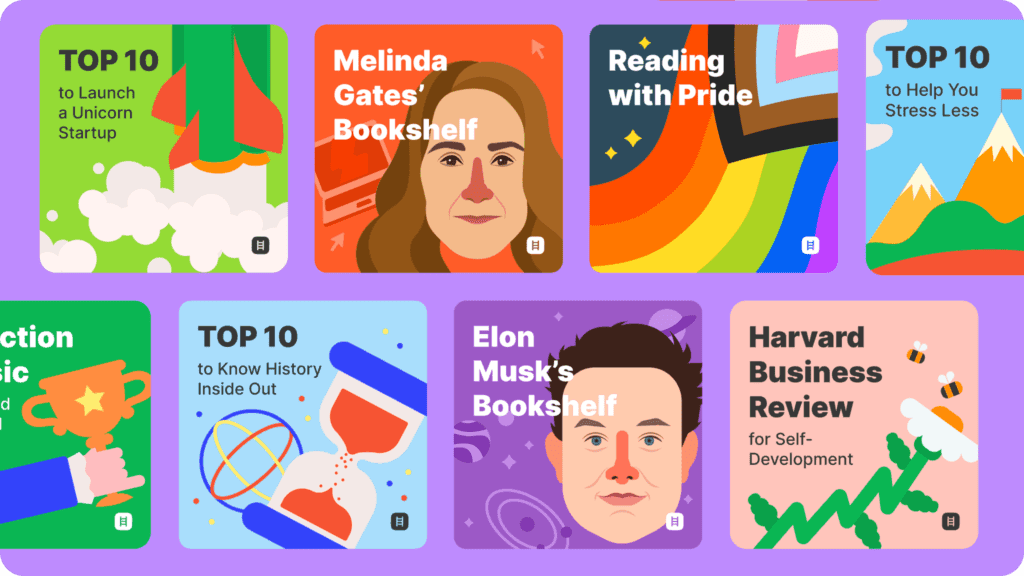 13. Do an activity by yourself 
Building confidence is hard, but easing yourself into it can help! Solo activities might not be a challenge you do every day, but you can certainly try once a week or month. Having the confidence to be in your own company is a beautiful experience. Here are some ideas to get you started:
take yourself on a walk;

enjoy a coffee from your local cafe;

go to your favorite restaurant;  

watch a movie at the theater.
14. Try the ultimate personal growth challenge 
Reading is an effective tool for self-awareness and improving how you do things. If you're looking for a self-growth challenge that unlocks gems from the best personal development books, the 28-day Achievements challenge is for you. You can read or listen to detailed book summaries on the Headway app, including the following:
The 7 Habits of Highly Effective People;

Atomic Habits;

Thinking, Fast and Slow;

Eat That Frog!
The Headway app gives you valuable insights from top authors across the self-growth category. You'll learn to build good habits, maximize time, and improve productivity. 
15. Complete your worst task first
Instead of procrastinating and leaving your dreaded tasks until the end of the day, tackle these first. Generally, you have more energy at the start of your day. So, rather than doing emails or administration, tackle the task you most want to avoid. Split it into manageable steps and harness your energy at its peak. 
16. Daily reflection task
Reflecting on your progress and achievements is an excellent way to encourage you on your self-growth journey. Commit to daily reflection after work or before bed. Take pen to paper or use an app to record your thoughts. Here are some things to include in your review: 
When did you last check in with your physical, mental, and emotional state?

Did you meet all your targets for the day? 

If the day didn't go as planned, what hindered your progress?

How can you make tomorrow more effective?

Did you take an appropriate amount of breaks? 

What small wins can you celebrate from the day?
17. Build emotional intelligence 
Emotional intelligence can help you recognize, validate, and regulate your feelings. It is a long-term goal that requires you to be aware of your emotions and triggers. The Emotional Intelligence challenge on the Headway app is an excellent place to start. In one week, you'll learn what it means to have emotional intelligence, the impact on your life, and how to strengthen this skill. Learn from book summaries of the best self-growth texts, including The Emotional Life of Your Brain, Permission to Feel, and Emotional Intelligence 2.0.
This seven-day challenge will help you cultivate the following: 
self-awareness;

attentiveness;

empathy;

acceptance;

reflection.
18. Go to bed an hour earlier 
There's no arguing about the benefits of restful sleep. However, so many people forget to prioritize their rest. Similarly to waking up earlier, the time you go to bed will depend on your lifestyle. Instead of drastically changing your routine, take yourself to bed an hour earlier and see how you feel. Ensure you give yourself enough time to wind down before and commit to it for a set period.  
19. Daily decluttering 
Decluttering your space can feel overwhelming, especially if you've left it unattended for a few weeks (or months!). However, there's no doubt that a clean room can benefit your mindset. It's crucial to be realistic and make this challenge easy. That means doing small tasks that contribute to the overall cleanliness of your home. Here are a few suggestions for keeping your home tidy:
do a five-minute clean before bed;

pick up clothes off the floor when you see them;

put your clothes away (or in the laundry basket) as soon as you take them off;

clean pots away after you've eaten;

every day challenge yourself to throw away one item you no longer need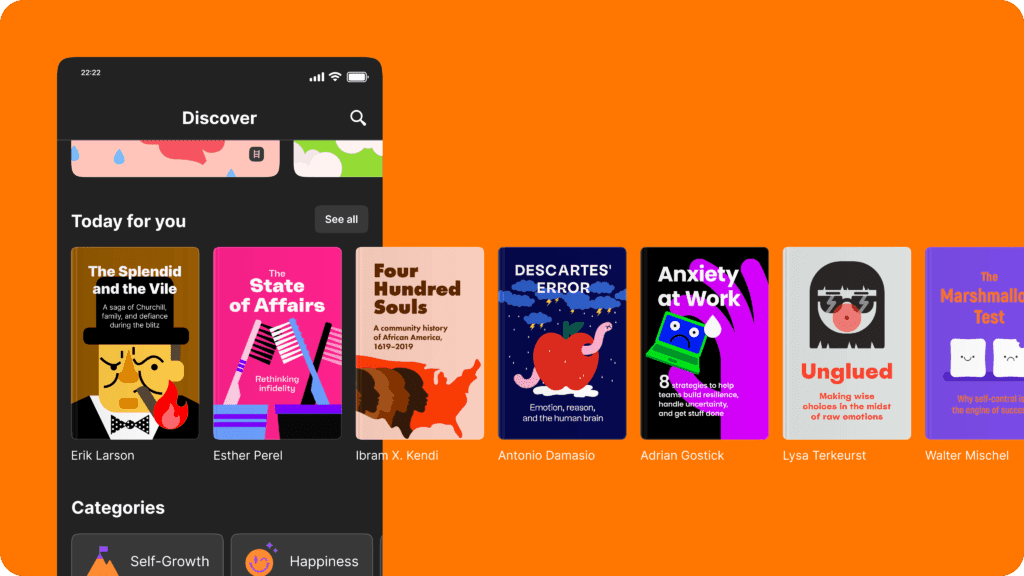 20. Join the 21-day wellness challenge with Headway
Since you've decided to start a self-growth challenge, we thought we'd make it easier for you. Headway's self-improvement challenges take the hard work out of your self-growth journey, so all you have to do is show up. In our 21-day Wellness challenge, you'll find all the necessary resources to improve self-care. From better sleep to establishing a morning routine, eating well, and stretching, our comprehensive book summaries set you on the right path. All you need to do is complete the challenge of the day and watch as your knowledge blossoms and your life evolves.
The 21-day Wellness challenge is ideal if you want to:
build healthy habits;

learn about balanced nutrition;

discover an exercise that works for you;

improve sleep quality;

promote calm throughout your life.
21. Make decisions about your day the night before 
Improving decision-making skills can boost confidence, save time, and increase energy. Instead of using your energy to make lots of tiny decisions in the morning, do it the night before. For example, pick an outfit, workout, or breakfast for the following day before you sleep. If you want to follow a structured self-growth challenge, try the Decision Fatigue 40-day plan on the Headway app! It'll help you build confidence, set practical goals, improve focus, and more. 
It's time to start your self-growth challenge
If you want to learn how to improve yourself every day, it starts with tiny tasks that equal a significant change. Self-growth challenges can guide you toward that bigger picture. We encourage you to try these daily challenges to become a better person and live a more fulfilling life. Focus on one task at a time to make self-growth a sustainable habit. Whether working out, decluttering, or reading more, a regular commitment is vital to making long-term changes.
Additionally, learning new skills and broadening your knowledge are fundamental to growth. Whatever your goals are, Headway can support you. Our accessible book summaries make complex topics easy to understand and provide actionable insights where possible. Reading or listening to book summaries from the top nonfiction reads can save time and improve your life today. 
Explore the best in nonfiction, or start one of our reading challenges today by downloading the Headway app. 
FAQs
How do challenges provide opportunities for personal growth?
Stepping out of your comfort zone can help you build confidence and skill in the areas you want to improve. Joining a self-growth challenge can help you achieve your personal growth goals.
What are three areas of self-improvement?
You can divide self-improvement into three categories: mental, emotional, and physical. If you're unsure what to address, choose a small daily challenge for each, such as meditation, fitness, or reading challenges.  
What are personal challenges?
Personal growth challenges include daily tasks to improve your well-being and help you work toward your goals. They can also help you build skills and knowledge in a particular area.