What's inside
Discover the courage to harness your creativity and embark on a transformative journey of self-expression. Let your inner magic shine and infuse life with extraordinary energy.
Key points
1
The problem with most creatives is that they do not know what to do with an idea until it leaves them
It's one thing to have an idea, it's another to know what to do with it. Most creatives do not lack ideas; they lack the tools to implement them. When you understand how sacred ideas are, you'll know why you have to pay maximum attention to them, and how to bring them to life. Ideas might look coincidental, but they are also magical. Life has hidden treasures in various forms, and it's left for you to bring forth these treasures using the ideas that come to you. When you're docile and inactive with an idea, it leaves you and finds someone else to inhabit.

Elizabeth Gilbert has written this book to address the issues that have been disturbing a lot of people. If you wish to know more about how to establish a connection between yourself and your ideas, then this summary of the book is for you.
2
Every human has treasures buried inside them in one way or another, and life expects you to find those treasures through what's called the "Big Magic"
Creative living is when you find a way to discover that thing that makes you feel alive. For Susan, her creative living was attached to skating. She had loved skating since she was small, and when she got to a point in her life where she found it difficult to generate true happiness, she went back to skating for the fun of it and it brought back enough happiness to make her feel alive again.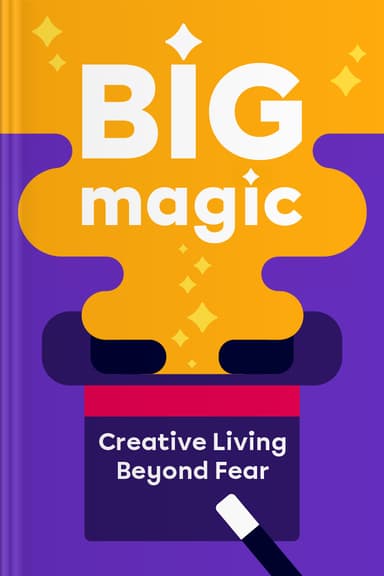 Other chapters is waiting for you in the app
3
Inspiration can be a great source of magical experience, especially for writers
4
You do not need anybody's permission to live a creative life
5
There's barely anything new, which means your idea is definitely not one of its kind
6
Learning is one of the biggest arts of writing; the more you learn, the more your ability to write increases
7
It doesn't matter whether you're getting published or not, keep on writing your ideas
8
If you want to be a writer, it's not enough to know that you love writing; you must also know if writing loves you in return
9
There's a chance you'll be more creative and productive if you embrace love instead of subscribing to sadness as an inspiration
You'll learn
Why fear might be your creative roadblock
How persistence outshines perfection in art
The key to unlocking your creative entitlement
Why saying 'no' to some ideas can benefit you
Listen the first key point