What's inside
Stop regretting the past and worrying about the future. Start living in a pain-free and full of joy present, making every moment count.
Key points
1
There are two strong feelings that trap many of us: regret and anxiety
We are either full of regret for the things we did or failed to do in the past, or we are full of anxiety over future events we cannot control. Still, we somehow believe that we can live better, happier lives even if we are clueless on how to go about it.

There are several methods we can apply to resolve the inner conflict we experience. We can develop a healthy relationship with our past, present and future by exploring the lessons in "The Power of Now".
Nothing has happened in the past; it happened in the Now. Nothing will ever happen in the future; it will happen in the Now. ~ Eckhart Tolle
Living in the present moment requires careful training of our minds to overcome the self-destructive ways in which we have been using it.

From his own personal experiences involving depressing late-night thoughts, Eckhart Tolle shares how he literally found peace by discovering the source of pain and suffering.
2
Experience great improvement in your life by focusing only on the present instead of regretting the past or worrying about the future
Everyone is in search of peace and enlightenment but these seem somehow elusive. We do not know how to improve our lives. We're instead trapped by a web of circumstances that keep us circling the drain.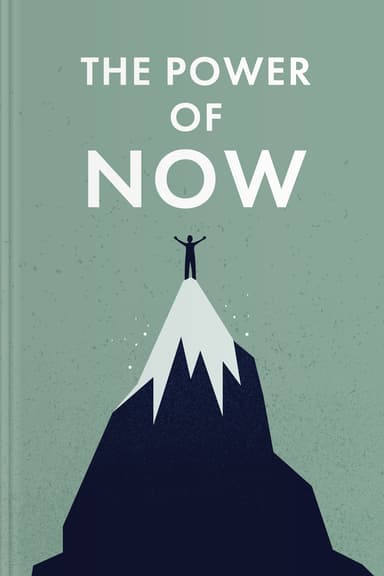 Other chapters is waiting for you in the app
3
Most of the pain you experience comes from within and not from external circumstances
4
You deprive yourself of happiness when you allow the "ego" to control your thoughts and behavior
5
Pay less attention to your mind and focus on your body to enjoy a life free from pain
6
Detach yourself from your mind and learn to observe it without judgment to be free from pain
7
Another technique that helps you tap into the power of now is active waiting
8
Living in the now weighs on your relationship but it also has the potential to improve the relationship
9
Living in the present is not an antidote to all forms of sadness or hurt feelings
10
Living in the present is not an excuse for mediocrity or living a passive life
You'll learn
Why humans are creators of pain
Why mind and ego are your enemies
How to focus on the present
The power of active waiting
Listen the first key point