Becoming Multilingual: 14 Language Learning Apps You Need to Download
Are you looking for the best language learning apps? Discover the top 15 foreign language apps and unlock your multilingualism today!
---
Everybody has their own unique way of learning new things. The ideal language learning app for you might not be the same as the perfect foreign language app for your best friend. Fortunately, we are spoiled for choice when it comes to language apps in 2023!
Whether you are an Android user or an iPhone stan, your device can easily transform into a customizable language learning tool. 
We thought we'd make your search easier by compiling a list of the fourteen best language-learning apps. Today, kickstart your journey to bilingualism, trilingualism, or multilingualism with these top-rated language learning apps!
Key points
Language learning apps are great for improving your language skills. 

Every linguist can agree that human interaction is essential to learning a second language. If you are keen on becoming multilingual, download the language learning apps that include an option to listen and talk to native speakers of your chosen language.

If you are looking for a language learning app that is more academic, Babbel and Rosetta Stone are great options.

In terms of fun language learning apps that will leave you with beginner-level comprehension, try Drops, Lirica, and Mindsnacks.

For language learners opting for a more personal experience, look into HelloTalk, Busuu, HiNative, Memrise, and LinguaLift.

If you are interested in learning a language through books, art, and games, Headway and DuoLingo are the top language-learning app choices.
14 best language learning apps
1. Best language app for book learning: Headway
Headway is the perfect personal growth tool for those looking to learn about language through books. This learning app's vast library of bite-sized content breaks bestselling non-fiction books down into a nutshell. Most of the literature on Headway is written in English, so this is a great space to spruce up your grammar and pronunciation! Headway also offers audio summaries for anyone who wants to listen and learn on the go.
Headway is one of the best language-learning apps on the market because you can learn about language while simultaneously improving upon your English! Dr. John McWhorter's book, The Story of Human Language, is a great example of this. McWhorter is a phenomenal linguist and associate professor of English and comparative literature at Columbia University. His book discusses the evolution and ever-changing nature of language.
The Headway app allows you to learn and digest these key concepts from the world's greatest minds efficiently and easily. The app's approach to book summaries also makes learning fun and rewarding. If you are feeling stumped on your language-learning path, check out these articles on how to achieve your goals and the top nine tips for thinking positively.
2. Best language app for structured courses: Babbel 
Babbel is considered one of the top overall language-learning apps. If you are serious about learning a new language and don't mind a more academic setting, Babbel is the choice for you. This language app covers everything from the basics of grammar and proper pronunciation to fill-in-the-blank conversations and local slang. 
You can choose courses on different topics and book live online classes with language teachers (for an additional cost). 
This foreign language app includes podcasts to supplement your learning. The free trial is limited and only offers a single lesson for each language. Some users have found Babbel's courses dry and repetitive due to a lack of gamification. Overall, this language app is perfect for those wanting to learn grammatical rules and a deeper understanding of a new language.
3. Best language app for gamified learning: Duolingo 
Learning a new language can be hard and tedious. The famous language learning app Duolingo continues to top lists because of its easy-to-use format. Every language module is broken up into bite-sized topics that you must complete before unlocking more. 
The course modules include simulated social scenarios like a party or a date and grammatical topics and terminology. Duolingo is the perfect blend of learning and fun. With useful tips, puzzles, reminders, stories, and common mistakes, you will never get bored on your journey to multilingualism! 
The free tier of this language app still offers a lot of content, but users will have to endure ads. It also limits the accessibility of some of the gamification elements. If you enjoy the structure of Duolingo, you can subscribe to Duolingo Plus for a more immersive experience. 
4. Best language app for casual conversation: Memrise 
Many of us are interested in learning a new language so we can communicate with locals when traveling to new places. With a special focus on everyday conversation, Memrise is a great learning tool for picking up common words and phrases. 
One of the best features of this language-learning app is the video segment called 'Learning With Locals.' Memrise includes video clips of various native speakers to familiarize yourself with a new language's proper sound, pace, and pronunciation. 
Memrise does offer a free version, but if you are interested in the complete experience, more features can be unlocked with a Pro account. If you consider yourself a jet setter and want an app that helps you have an easy conversation with new people, Memrise could be the perfect fit. 
5. Best language app for a personalized experience: Busuu
Busuu is considered one of the best language-learning apps because of its 'user review' feature. Busuu will match you with a native speaker of the language you are learning. Your match will then comment on and correct your oral and written work. In turn, you can do the same for others learning your language. This foreign language app also allows you to add friends from your contacts so you can build a community and support system along your journey. 
Busuu covers 13 languages and a structured learning style that includes flashcards, casual conversation, and grammar exercises. Once downloaded, you have to take a proficiency test to determine your level, and then you can start on one of the 150 language units available. 
6. Best language app for visual learners: Drops
This language learning app goes about teaching language in a different way than some of the others we've listed so far. Drops doesn't contain the usual grammar lessons, pronunciation assignments, or speaking practice. Rather, this foreign language app teaches words and phrases through drops that fall from the top of the screen. 
The drops contain pictures that users are to identify through an easy-to-understand pairing game. Each drop is spoken aloud in your chosen language, so you learn sonically and visually. Before the game starts, you can choose how much time you want to commit to language learning daily and pick the categories you want to learn about, such as travel talk, tech, art, food, and business. 
Drops offers 39 languages to choose from. The free version of Drops allows only five minutes of learning per day but can teach over 3,000 words per game. A premium subscription gives users more learning time. 
7. Best language app for consistency: Mondly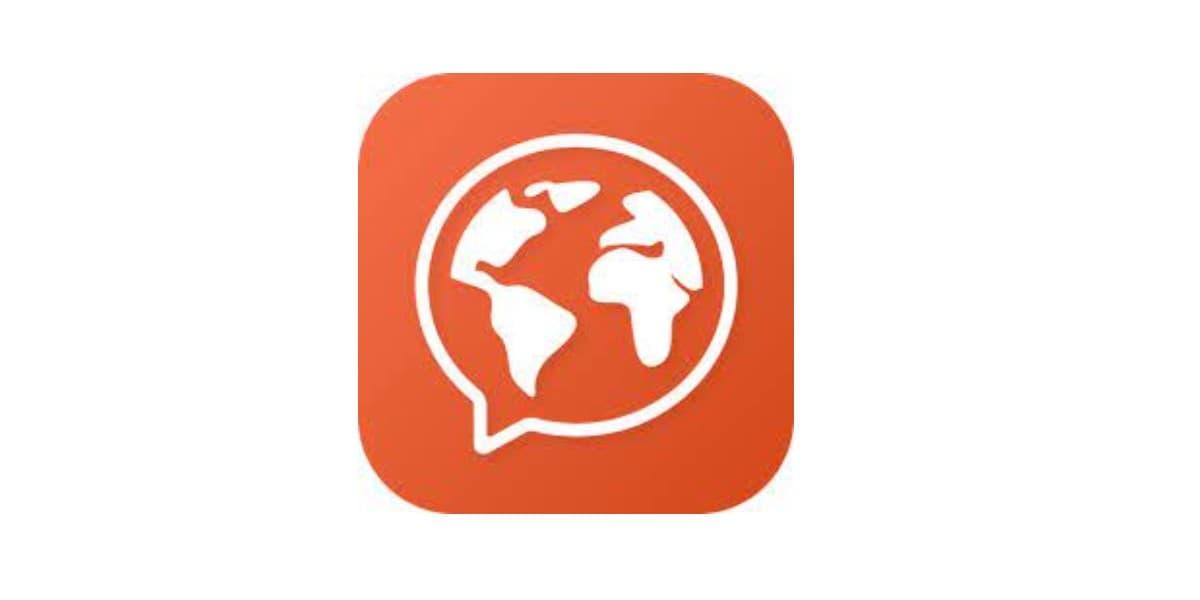 This colorful, child-friendly language app offers short daily lessons that are arranged by topic. Mondly teaches keywords before delving into grammar, punctuation, and pronunciation. This top language learning app features voice recognition for speaking practice, a verb conjugation tool, audio by native speakers, and a trusty dictionary in your chosen language. 
The goal of Mondly is to prepare you for real conversations with native speakers. Additional key features include quizzes, a leaderboard, challenges, and a chatbot. Although this app does have lessons for more intermediate and advanced students, Mondly is a great language learning app option for the beginner looking to ease into a new language. 
8. Best language app for learning by ear: Rosetta Stone 
Rosetta Stone was one of the first language programs on the market and is one of the most recognized language learning programs on the planet. The entire philosophy of Rosetta Stone is to immerse users into the language by teaching lessons in your target language. 
Rosetta Stone can be a bit dry and formal compared to some of the other language learning apps. It lacks gamification and focuses more on speech recognition and grammar. Similarly to Babbel, Rosetta Stone is a great choice for learning a new language in a more academic setting. 
You can try the first lesson of each language course for free, but if you want to delve further into your learning, there is no free version of a complete program. You can additionally pay for online tutoring sessions through the app. 
9. Best language app for learning with music: Lirica
Struggling to focus in an academic language learning setting? Lirica is a great choice if you're looking to introduce a new language into your life in a fun way. With Lirica, you can learn Spanish, German, and English through popular songs and videos. 
Each lesson breaks down song lyrics and teaches vocabulary and grammar. This app is a fun way to supplement your language-learning journey.
10. Best language app for a language exchange: HelloTalk
HelloTalk is one of the best language learning apps to practice speaking a new language while eliminating the stress of a real-time conversation. This app matches learners with native speakers, and they converse over a chat with audio messages. In an ideal scenario, you come across a local speaker of your desired language who also wants to learn your mother tongue.
This self-contained foreign language app lets users correct one another (with a built-in correction tool), so you can have little texting tutoring sessions. The app also has a fully-integrated translation system for those just starting. The text-to-voice feature is a great addition to help improve pronunciation and pace. 
11. Best language app for a tutor: LinguaLift
This language learning app is geared towards those of you who are determined to learn a new language with the guidance of a tutor. LinguaLift's tutors can help with grammar, suggest supplementary resources like books and movies, and assign and correct homework to the keen learner. 
Access to real people can be very helpful when navigating something as confusing as a new language. LinguaLift additionally contains cultural insights, script learning tools, and general vocabulary lessons. 
You can download the language app for free, but the subscription includes a book and customized study plan from your tutor.
12. Best language app for fun: Mindsnacks
We said Duolingo is a gamified language-learning app. Well, Mindsnacks takes gamification to a whole new level and is one of the best foreign language apps in terms of fun and simplicity. The language app teaches seven languages, each with eight to nine mini-games designed to help you learn grammar, listening, and vocabulary.
Mindsnacks monitors your progress so you can see how far you are from achieving proficiency in every skill. Eventually, the goal is to practice the simple lesson concepts until they are mastered.
Replete with quests and high-intensity timed language games, this language app is great for learners wanting something fun to turn to in their downtime. The basic download of Mindsnacks is free but has restricted games. Once you subscribe, you have full access to all lessons and games.
13. Best language app for travelers: TripLingo
Learning a city's native language can enrich your travel experience and decrease stress levels. TripLingo is the best language app for travelers looking to improve their skills before going on a holiday or business trip. The language app's main goal is to get you to speak and understand the basics, so you feel more comfortable in a foreign environment. 
TripLingo's top feature is called the 'slang slider,' which displays different levels of formality in each phrase depending on the context you're in. At a bar, you may want to sound more casual. In a business meeting, less so. The lessons are divided into manageable sections such as 'business phrases' and 'safety phrases.' 
Lastly, TripLingo has an inbuilt voice translator that acts as an emergency feature for when you are at a complete loss for words. 
14. Best language app for community building: HiNative
HiNative is one of the best language apps if you are looking to build a community. The basic premise of HiNative is to bring native speakers together with learners to help one another resolve their language struggles. This language app allows you to contact a native speaker without the hassle of searching for an exchange partner or scheduling a talk. 
Another great aspect of HiNative is that it's not only the native speakers who can answer your burning language questions but also the other learners. Sometimes learning from people who understand your struggle can have a clearer idea of how to approach the process.
Discussions on HiNative range from translation questions to pronunciation tips and opinions on cultural norms. 
Conclusion
No matter what language you are trying to pick up, a language learning app is a great way to build your vocabulary and deepen your comprehension of a country's culture. These 14 best language learning apps help a wide range of students — from the advanced learner brushing up on grammar to the beginner curious about how to order a coffee — this list has something for everyone. Language fluency requires comprehension and immersion through conversations, classrooms, movies, and books. 
Download the Headway app today to kickstart your language journey.  
Frequently asked questions
What is the most useful language-learning app?
The most useful language learning app depends on what type of learner you are and the level of fluency you wish to reach. Two of the most popular language-learning apps are Babbel and Duolingo.
Do any language apps actually work?
When it comes to being truly fluent in another language, language learning apps will most likely need to be supplemented with books, travels, and conversations. The Headway app is a great place to learn about the psychology of language learning. Headway offers bite-sized summaries of the bestselling non-fiction books in the world that cover topics from self-growth to psycholinguistics!
Can you become fluent with language apps?
Language learning apps provide a great starting point for new language learners. The degree of fluency depends on your starting point and how much more diverse the language is than the learner's native tongue. Of these fourteen best language apps, TripLingo, Busuu, and Memrise are great jumping-off points for learning a new language.