Headway Made the List of the Top 50 Startups in Europe
The Titans of Tech report highlighted the company as one with the potential to become a "unicorn" in two years.
Headway Team
3 min
---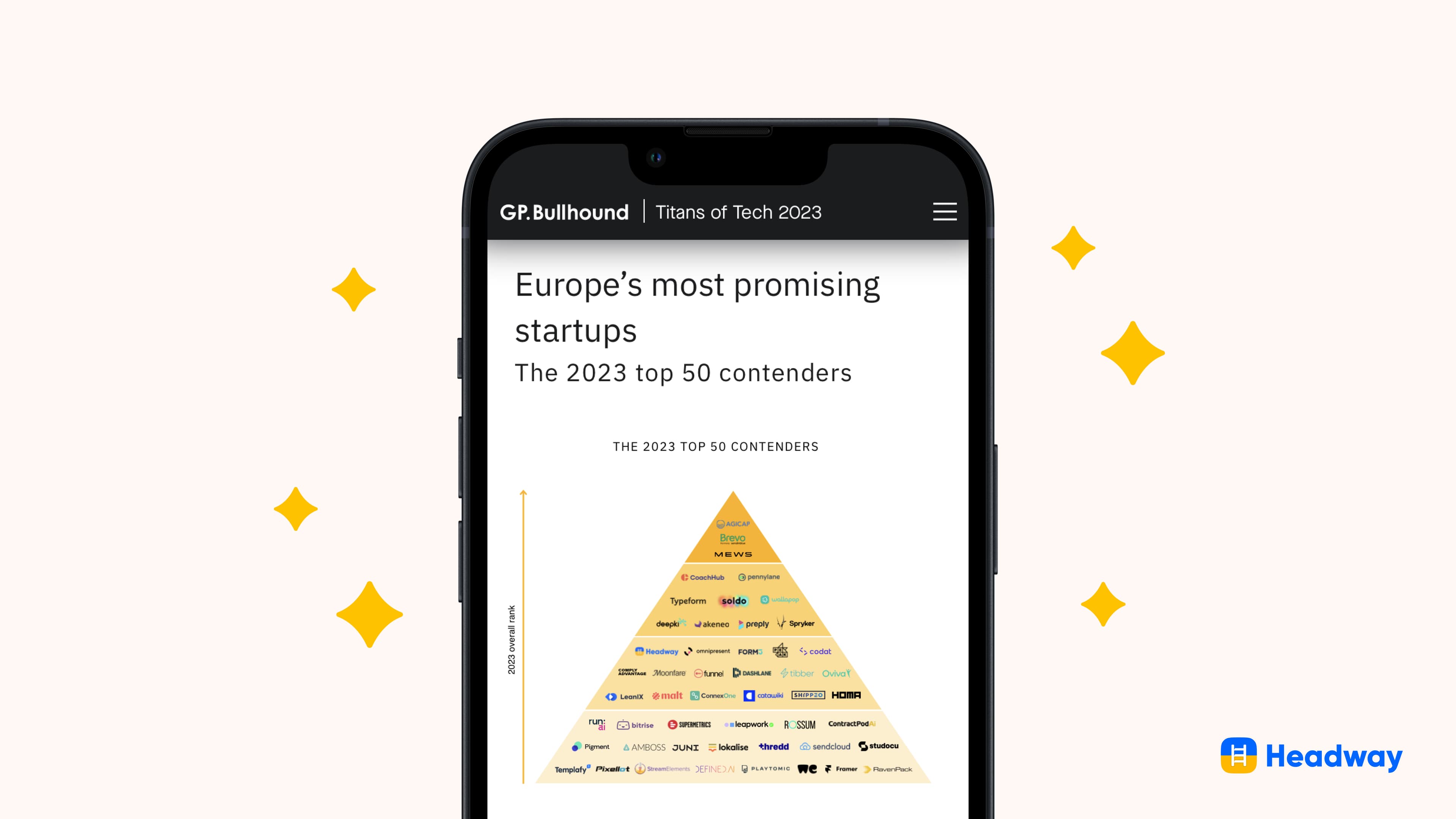 Ukrainian EdTech company Headway appeared on the list of the best European startups with the potential to reach a capitalization of $1 billion (become a "unicorn") in the next two years. GP Bullhound conducted the corresponding research of the market.
The report investigates the European tech ecosystem. The expert team analyzed more than 100 European startups for scalability and speed of growth and interviewed 120 investors. Based on the results, they formed a list of 50 startups with the greatest potential to reach a capitalization of $1 billion in the next two years. Headway is among the top 30 startups in this ranking.
"At the heart of Headway is growth. Our products help people around the world embrace self-development and learn day by day throughout their lives. The growth that the team has shown over the last year, despite the challenges of wartime, is a testimony of incredible effort and inspiration to build a true Ukrainian unicorn startup," comments Headway's CEO & Founder, Anton Pavlovsky.
The list was formed according to several criteria — only technological businesses operating online or creating software, with headquarters in Europe or Israel, founded no earlier than 2000, which have already raised at least $20 million in investments or have a value of more than $400 million, were considered. Most of the businesses that GP Bullhound included in the list of potential "unicorns" in 2021 have already reached a capitalization of $1 billion or are approaching this milestone.
The report demonstrates that despite Russia's full-scale invasion, the Ukrainian tech ecosystem remains stable. Thus, in 2022, Ukraine's IT exports increased by 5%, 77% of technology businesses continued to work with global clients, and 65% of companies did not lay off employees despite the ongoing war.
---
Reference:
Headway is an EdTech startup that creates microlearning products. The company is in the GSV 150, a list of the world's most transformative digital learning and workforce skills companies. Founded in 2019, in just 3.5 years, the company grew from a team of three to 170+ people and opened offices in Kyiv, Warsaw, Nicosia, and London. Headway's microlearning products help millions of people globally learn through concise educational content formats, including summaries, courses, games, and infographics. The company's flagship product is the Headway app, which, in 2023, became the App of the Day in the USA four times in a row and received the Editor's Choice award from the App Store.
GP Bullhound is a leading consulting and investment tech company providing services to entrepreneurs worldwide. The company was founded in 1999 in London and currently has 13 offices in Europe, Asia, and the USA.