How to Read 30 Bestsellers in a Day
Promised yourself to become smarter in 2022? Here's how
Headway Team
2 min
---
Do you feel satisfied with the amount of time you dedicate to learning? Or are you, like most of us, living in a constant state of being busy and having little to no time for self-growth? Because we have an absolute gem for gaining more knowledge in less time — 30 Must-Read Bestsellers in Infographics from the Headway Store.
What is it exactly? It's an e-book that embodies one of the most effective educational approaches — visual learning. It brings you 30 bestselling must-reads as infographics which let you get to the core of each book in just 10 minutes. Talk about time-saving, huh!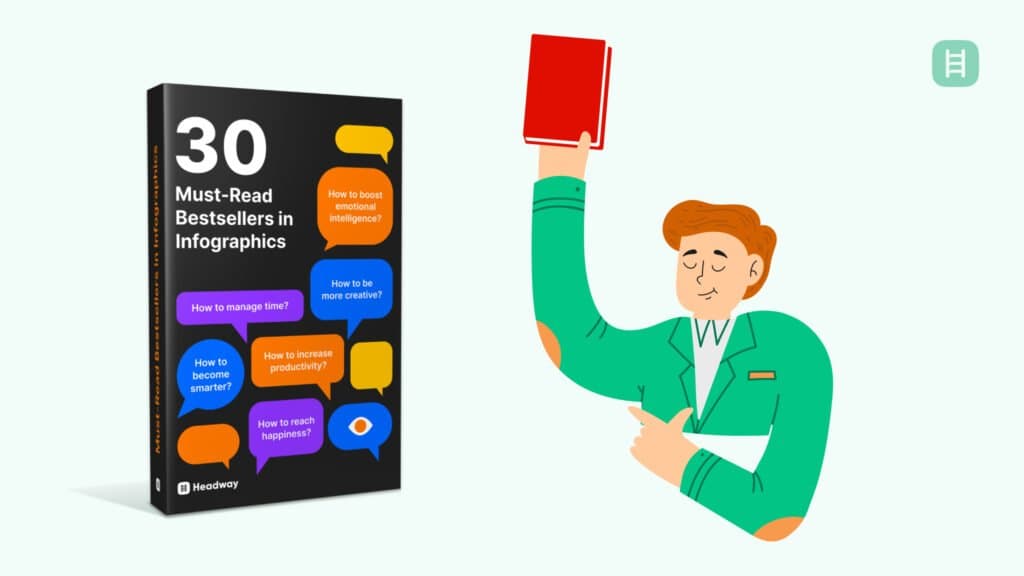 Now let's dive deeper into the greatest benefits of 30 Must-Read Bestsellers in Infographics.
Outstanding book selection
Quality always comes first at Headway. That's why we'd analyzed dozens of reputable bestseller lists and chose the 30 most notable nonfiction titles.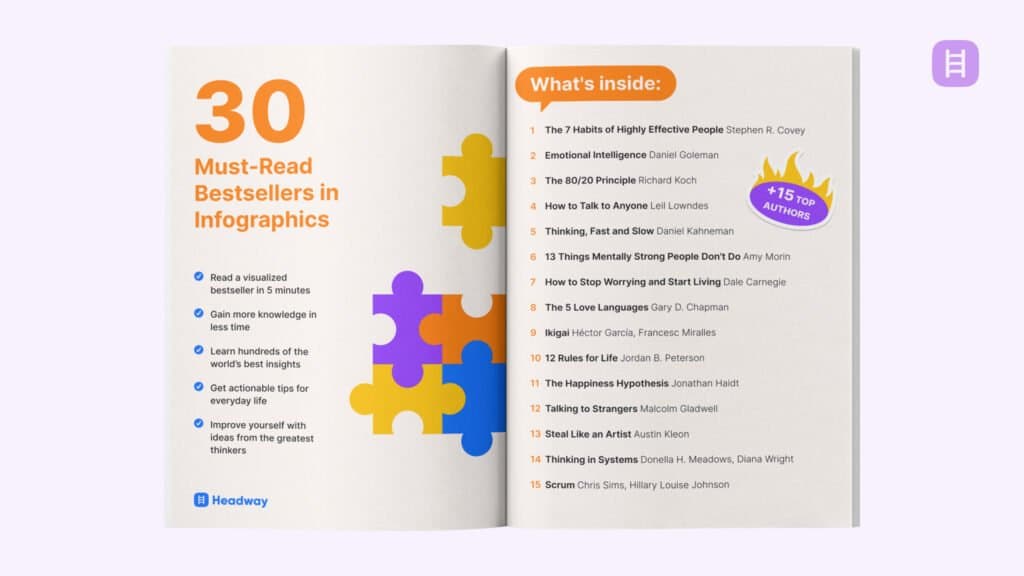 Every one of them will help you elevate different life areas — happiness, career, relationships, intelligence, confidence, productivity, time management, and many more! And by finishing 30 Must-Read Bestsellers in Infographics, you will learn 300+ key insights for boosting your all-around growth.
Only the most important information
For our 30 Must-Read Bestsellers in Infographics, we filtered out all the extra information and picked only crucial insights and main takeaways from each title.
And as a cherry on top, we visualized them as infographics. This way, you'll memorize each book's ideas faster and much easier.
More than 250 hours saved
Because of the bite-sized format of infographics, it takes merely 10 minutes per book. Yeah, we're just as amazed by this. Thanks to this, you'll save more than 250 precious hours and won't need to make sacrifices in your routine to learn.
Limitless access
Once you place the order, the e-book stays with you happily ever after, and you don't need any connection to read it. Nothing should come between you and the desire to learn!
Moreover, you can easily print it out to highlight your favorite insights, mark the books you finish, or even put up infographics on your walls. Who said that decorations couldn't be highly informative?
Start learning easier and faster
Our easy-to-digest 30 Must-Read Bestsellers in Infographics lets you improve yourself in the shortest amount of time. You will get your hands on the greatest ideas of 30 influential thinkers, and some of them will change the way you look at the world.
And that's the ultimate strategy to change your life for the better and accomplish your boldest aspirations. So don't wait up and make the first step with 30 Must-Read Bestsellers in Infographics!