How I Achieved Life Balance with Headway
And finally became the best version of myself
Headway Team
6 min
---
After realizing that life satisfaction comes from maintaining balance, I knew what I had to do to finally become happy – I needed to even out all my life spheres. As I set out on my self-growth journey, I discovered that there's a tool for it! And that's how my story with Headway had started.
To clear things up, Headway is a book summary app that goes way beyond classical reading. One example of their format diversity is the challenges you can pass there. And the Success challenge, in particular, was the one to change my life.
How did the Success challenge help me with achieving life balance?
The Success challenge was frankly the best way to start my self-growth journey. After reading all success-oriented 28 summaries, I have boosted leadership, goal-setting, ownership, result focusing, and confidence. Not too bad for just four weeks, huh?
The key here is that having enhanced those skills influenced all my life spheres — money, relationships, career, spiritual, etc. The challenge helps you accomplish the groundwork in short term to gradually balance out all your priorities and life domains.
So, how does the Headway challenge work?
First, in the app, you pick a challenge that targets your goals. There were many appealing options, like Wellness, Self-Confidence, or Emotional Intelligence, but I decided to stick with Success for starters. And later on, it turned out to be the best choice.
After choosing the challenge, you get a custom reading plan that assigns one book summary for each day to boost that life domain — as simple as that!
A summary is an original piece of content written based on a book that takes around 15 minutes to read. The writers give you only important information and valuable thoughts to save you hundreds of hours of your life.
You may ask, is it then a dry abstract of the book? Not at all! On the contrary, a summary is written in such an engaging way that you can't put it down. And all the insights and quotes are highlighted in such a remarkable way that it's very pleasing to read and — most importantly — very easy to remember.
I figured that such a tactic significantly helps stay consistent and form a sustainable reading habit, which I struggled with for many years before discovering Headway. The bottom line is that it is much easier to have a proper follow-through when you have a clear and attainable goal, like reading one 15-minute summary a day.
Additionally, the challenges vary not only in their topics but also in their length. For instance, some take 14 days, and some — 28, as the Success one. Yet, no matter how long it takes, you stay motivated till the very end. Why so?
For example, you can earn different achievements throughout the challenge, making you eager to collect all of them. It is particularly satisfying to look at your 'hall of fame' full of badges for being a diligent reader.
Furthermore, you get to compete with your friends and millions of other users worldwide, which is incredibly inspirational. After all, if I'm challenging my Success, I have to be the absolute number one and not lose my streak by any means. What's the fun without a bit of competition, right?
Read & Listen Anywhere
Not only is there a massive collection of nonfiction book summaries, but there are also audio versions to every 15-min read! So whether you are having a workout or commuting, it is a perfect option to learn and evolve any second given.
What's more? With Headway, you don't always need to have an Internet connection. You can download any summary and read or listen to it anytime and anywhere. That's what we call limitless access to knowledge.
Loving the @get_headway app for my morning inspirational reading. Today I chose 'The Truths We Hold' by @VP @KamalaHarris. It's intriguing to see an insight into what makes a leader and what influenced her to get to where she is now.

— Fran Davison (@FranDavison94)January 22, 2021
Memorize It!
One of the features we are proudest of is Spaced Repetition. It is a proven learning technique that is based on flashcards and aims to help with memorizing.
How does it work? It's simple! While reading a summary, you just need to highlight a word or an insight you'd like to memorize, tap Remember, and voilà — it turns into a flashcard in the Spaced Repetition section. Once you've learned selected information, the flashcard will be saved in your history. Don't forget to check and revise it!
This feature is also perfect for readers who speak English as a second language. Because you can look up the unknown words, add them to the flashcards and improve your vocabulary!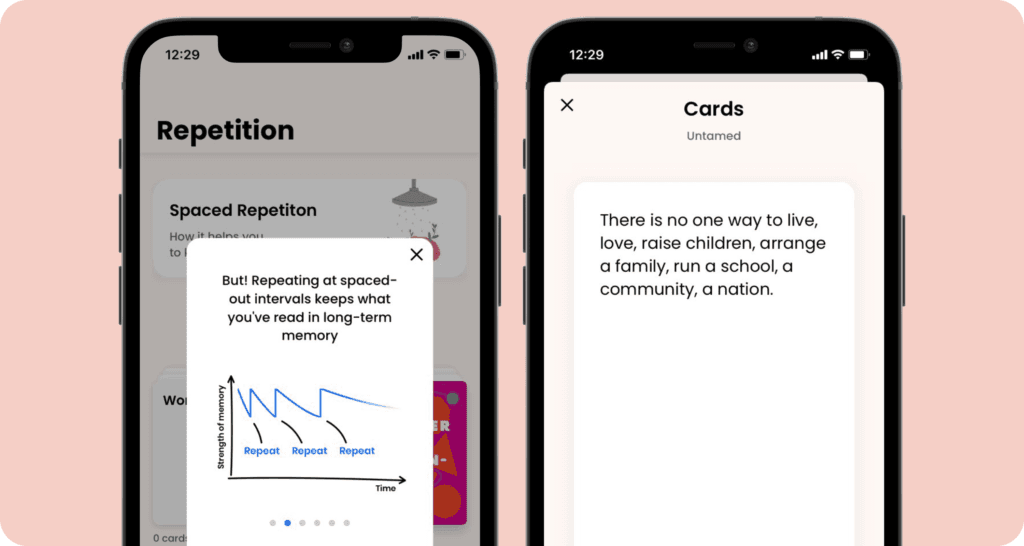 Dive into the Best Insights
Not only are our writers the magicians of turning a book into a 15-minute summary, but they are also pros at highlighting key ideas and turning them into memorable insights! So there is no chance you'll miss them as we've created the most comfortable navigation through summaries.
But that's not all! Every day you get the portion of the most relatable Daily Insights inside the app. And yeah, we know how important it is to share what inspires you with others. Once again, that is possible with Headway as well! You can share Daily Insights to your Instagram stories and give others a glimpse of your source of motivation. After all, why shouldn't you be a self-growth inspiration for your followers?
Widgets All The Way
Yes, that's correct. Now inspiration is always in your pocket and speaks to you every time you unlock your phone. Our team picks the best quotes and insights for Headway widgets to keep you motivated every second. And what can we say? Our users love this feature!
Authentic and Unique
What's more? Our groundbreaking illustrators create all the book covers for summaries. So take a minute to look into all the metaphors inside our authentic book jackets. It's mind-boggling!
Meet another outstanding feature of Headway — personalized recommendations. After filling out the quiz, you get your very own book recommendations based on it in the Today for you section.
On top of that, there are editor-picked collections. We know that it can be a little overwhelming to see 1000+ summaries and decide where to start. That's why collections are great helpers. Dive into multiple topics like productivity, self-growth, happiness, and many others. A great way to begin your journey with Headway!
If y'all are looking for that daily reading with inspiration to a new mindset and a new lifestyle @get_headway it's key!!! 💯

— channy (@cruzecontroldoe)January 21, 2021
Celebrate Your Progress
In the Profile section, you will find your reading achievements. Discover how well you are doing compared to other Headway users, set timing goals of how much you want to read per day, and, of course, check your streak!
Don't worry; you will get reminders about how much time is left to finish your daily reading session, so you will never lose your score. That's an excellent idea for the intellectual competition between your friends, family, and colleagues.
Worldwide Recognized App
Need social proof of why Headway is the best reading solution? Apple has already recognized Headway in categories like Popular Apps to Try, This Week's Favorite, Learn More Everyday, Read More, Achieve More, and New Apps We Love in more than 140+ countries.
Headway's biggest markets are the USA, the UK, New Zealand, Canada, and more than 7 million users have already downloaded the app! Not bad for the app that appeared only in 2019, huh?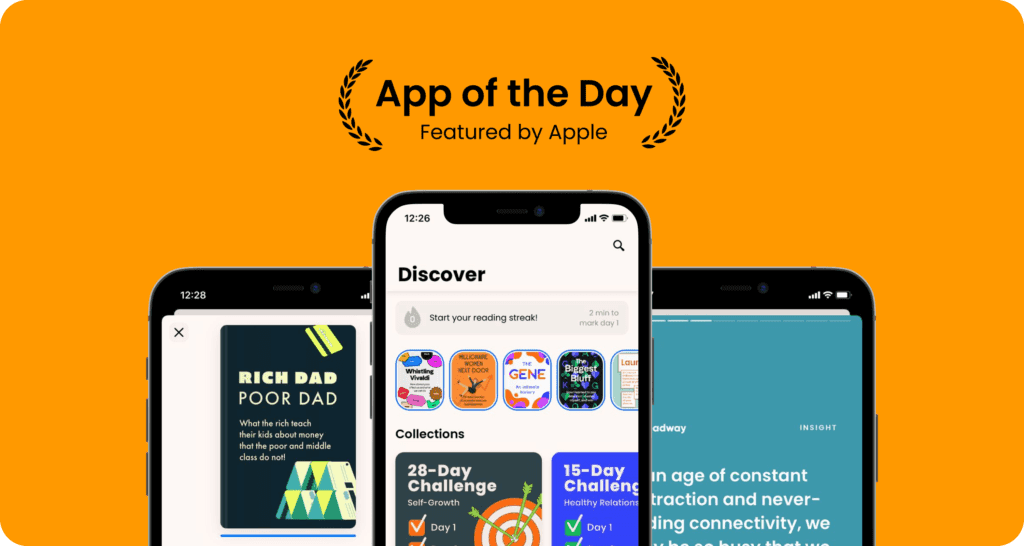 We want more people to find out about Headway as we believe in what we do. Helping others become better and smarter is our primary goal, and we go towards it steadily and firmly.
Download the Headway app now to join our fantastic community and change your life forever!